Thar Desert Luxury Living.
A world of your own for relaxation in the soul of Sam Sand Dunes, blended with traditional mud houses and tented design, coupled with simple luxury.
We have created the categories at Bhavya Resort by being inspired by the lodging of desert tribes. By using traditional materials, we have endeavored to reunite charm and comfort. Amongst luxury mud cottages and tented accommodation, we have created an area focused on your gratification that you will find magical. complemented with modern amenities for a prosperous stay.
Maharaja Luxury Amaan Suite
Maharaja Luxury Amaan suite is the largest tent in the Resort as well as in the Jaisalmer. This Suite has a custom-made king-size bed and two twin-size beds, handcrafted furnishings and an opulent bathroom. This Suite is designed for guests who want to experience one of the most luxurious experiences in the Thar desert.
Maharaja Luxury Amaan Suite is the perfect place to relax or entertain in splendour.
It will delight you with its spacious and pleasing design as well as its modern comforts, giving a feeling of space and breathability in the middle of the enormousness of the wasteland of Rajasthan.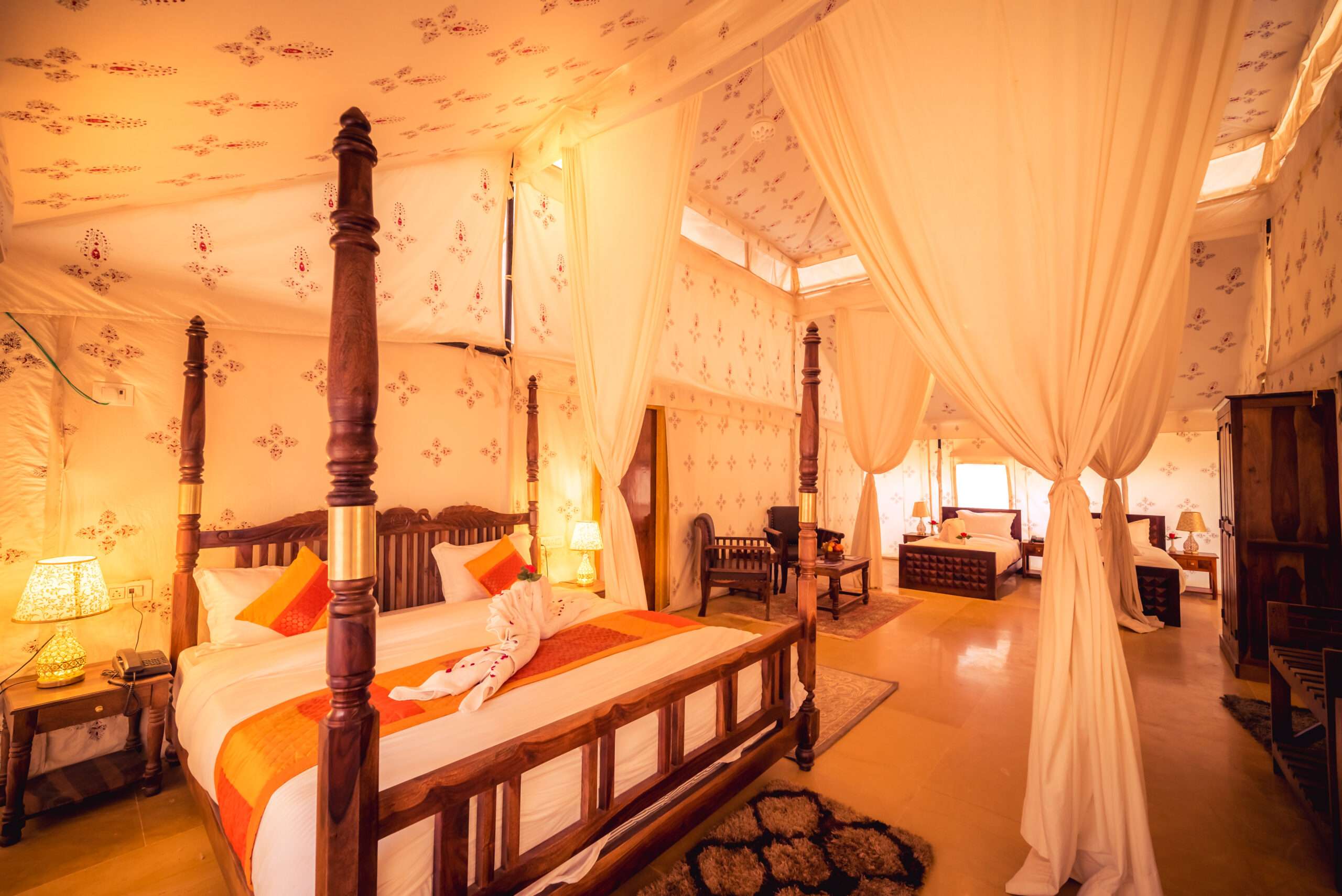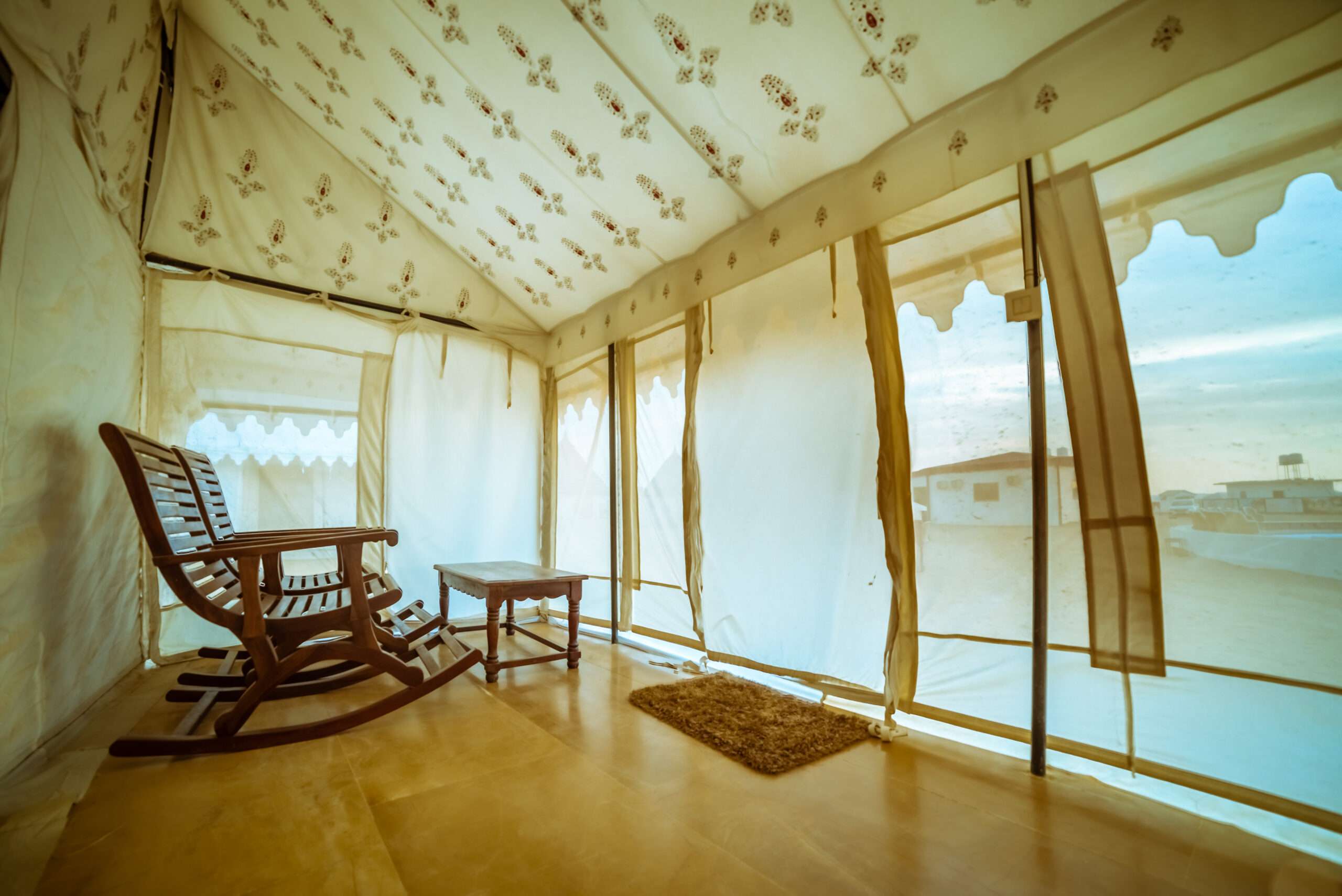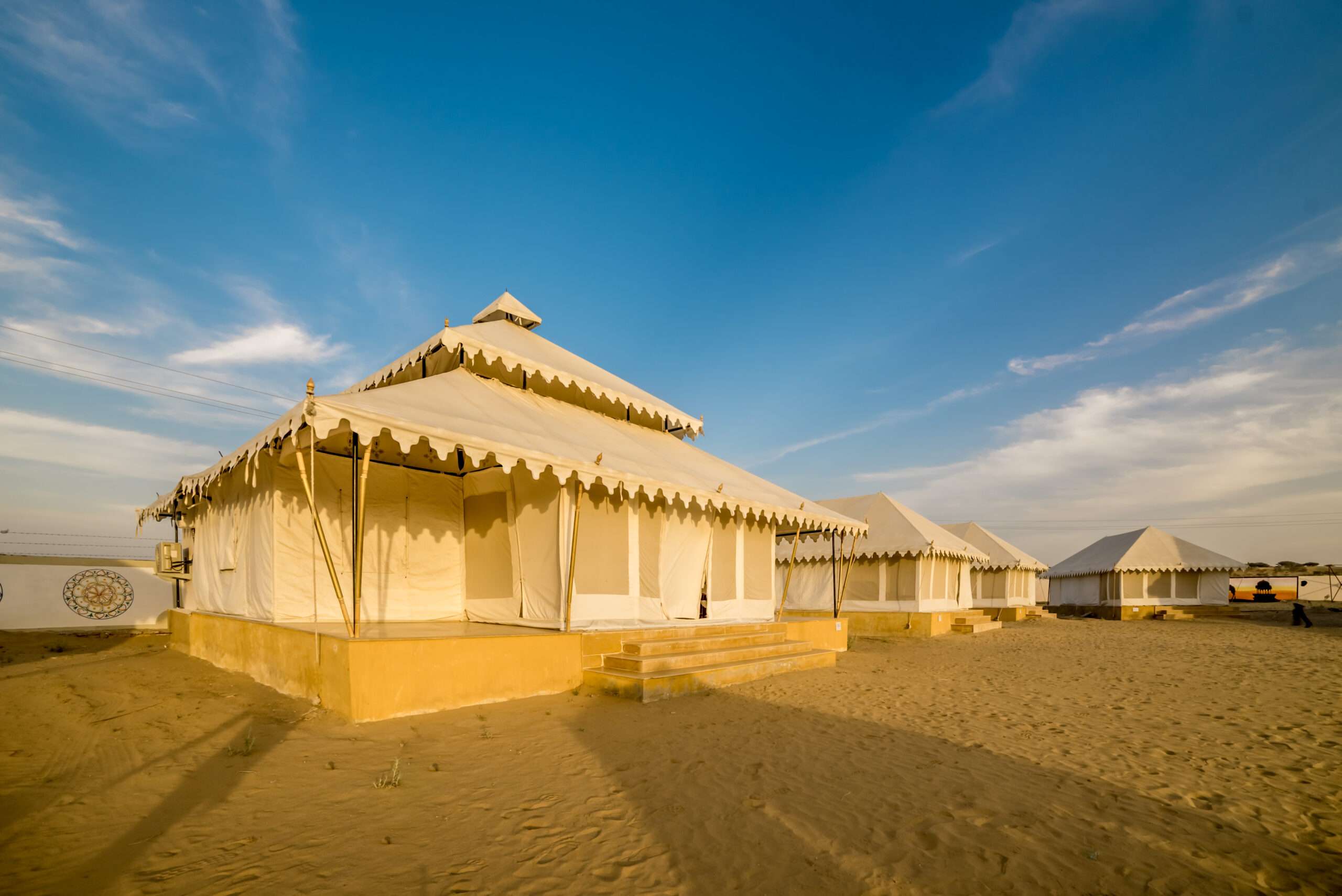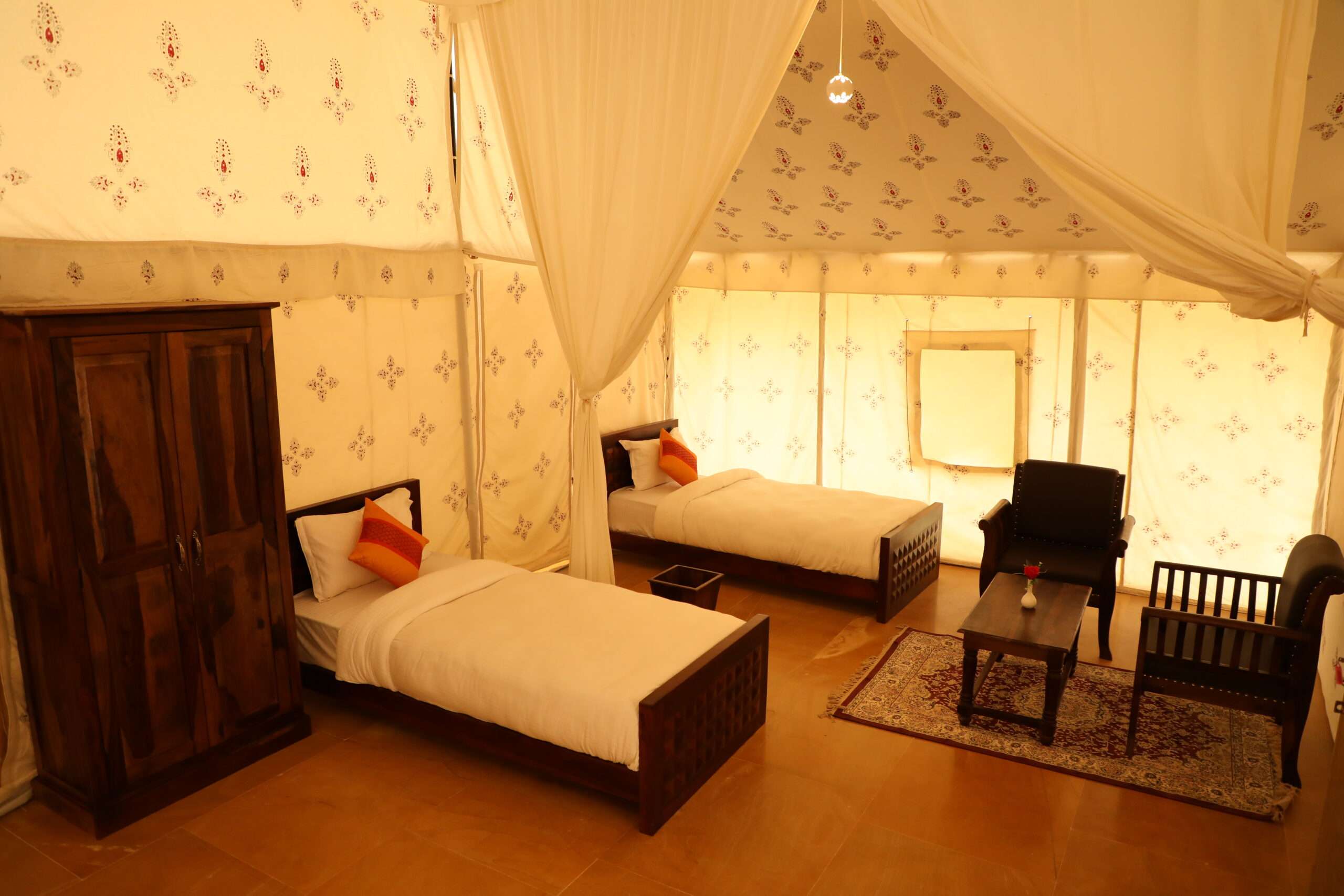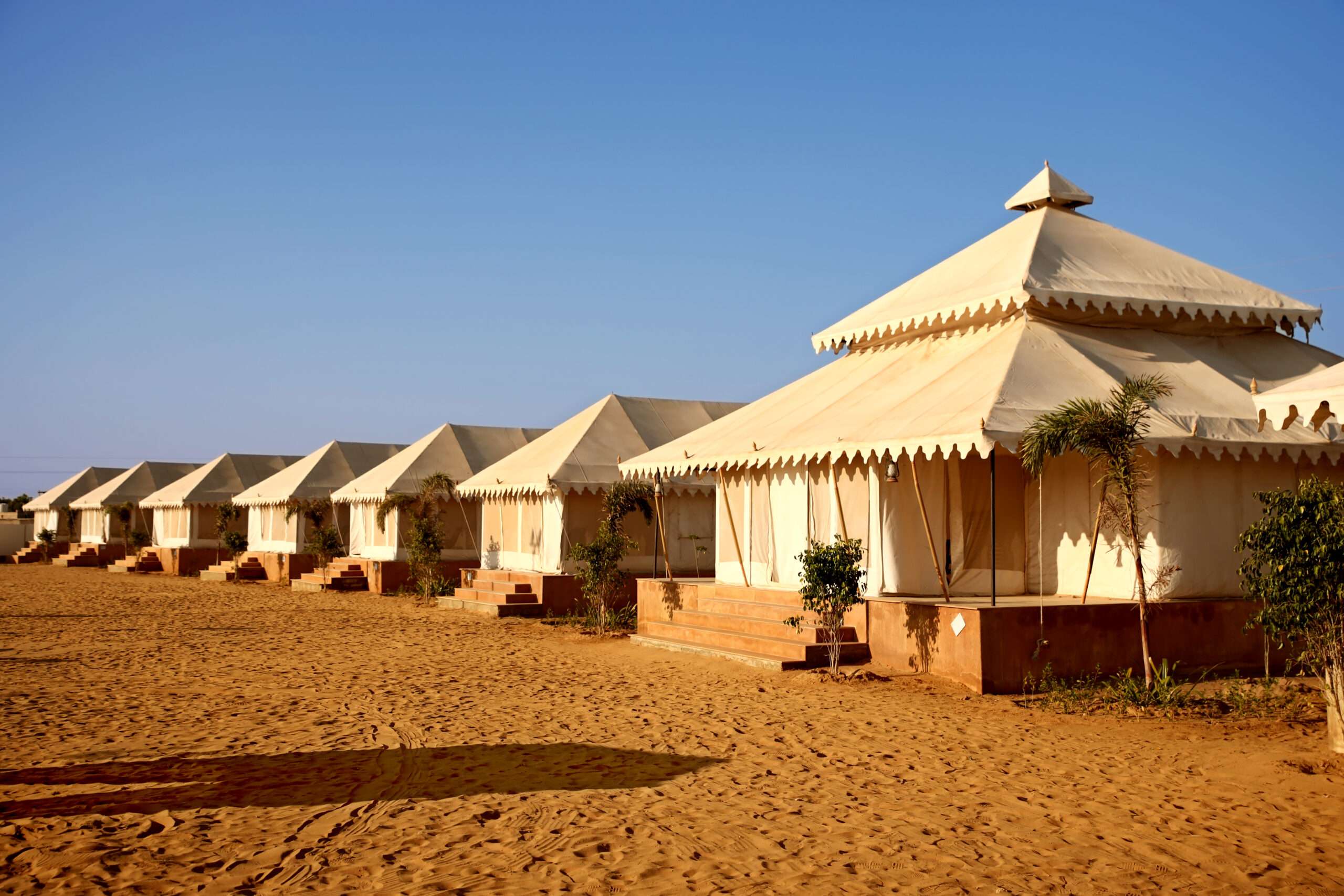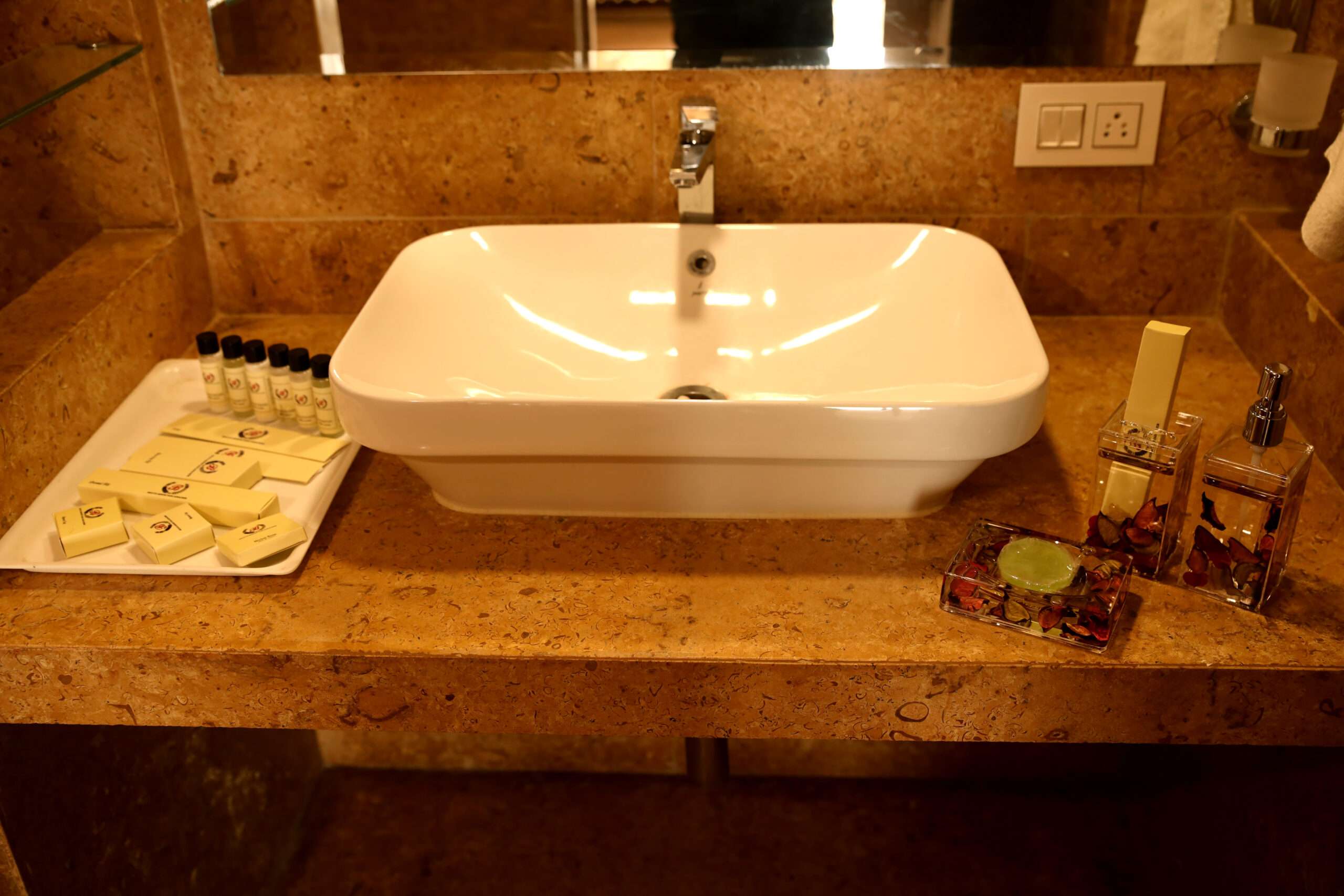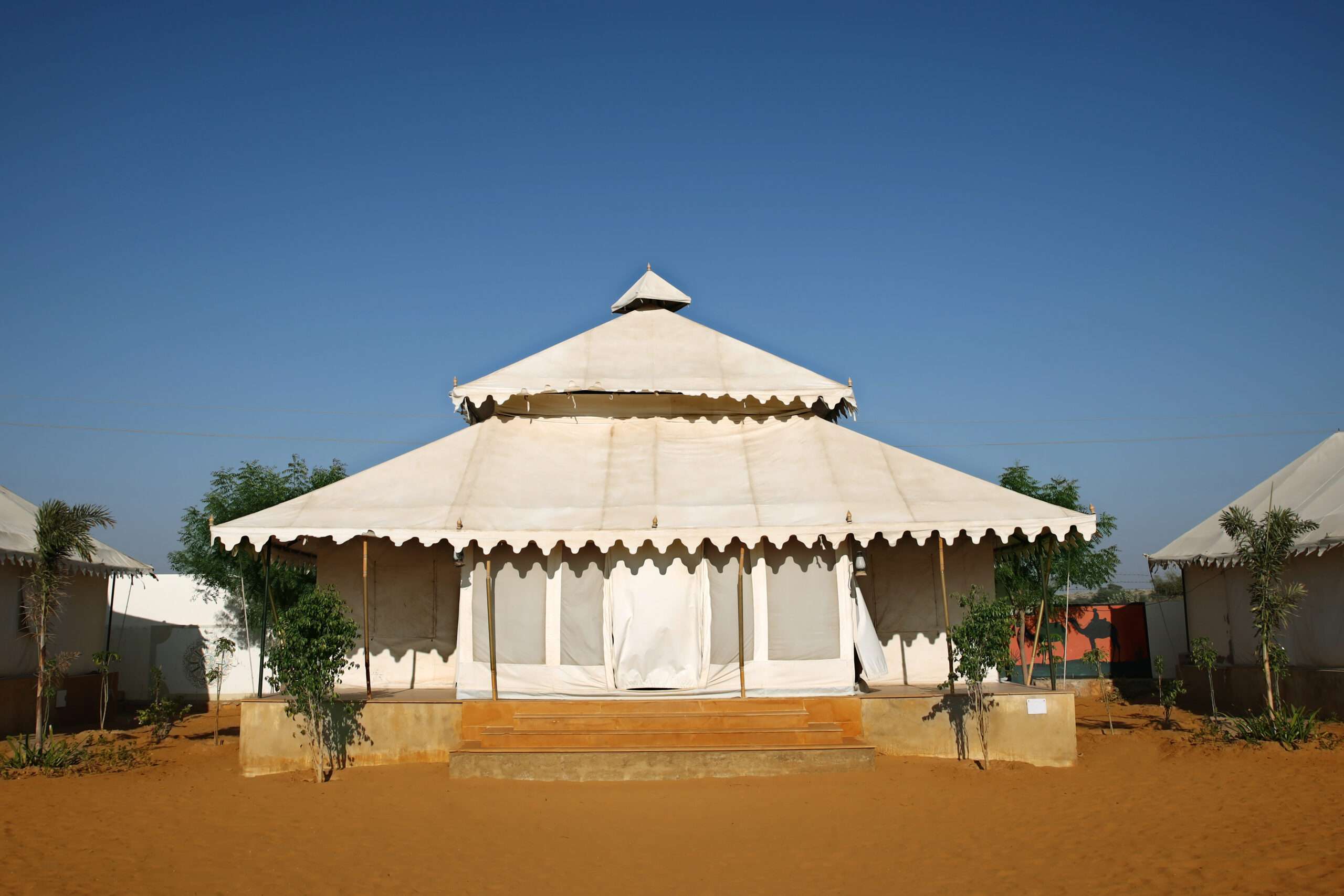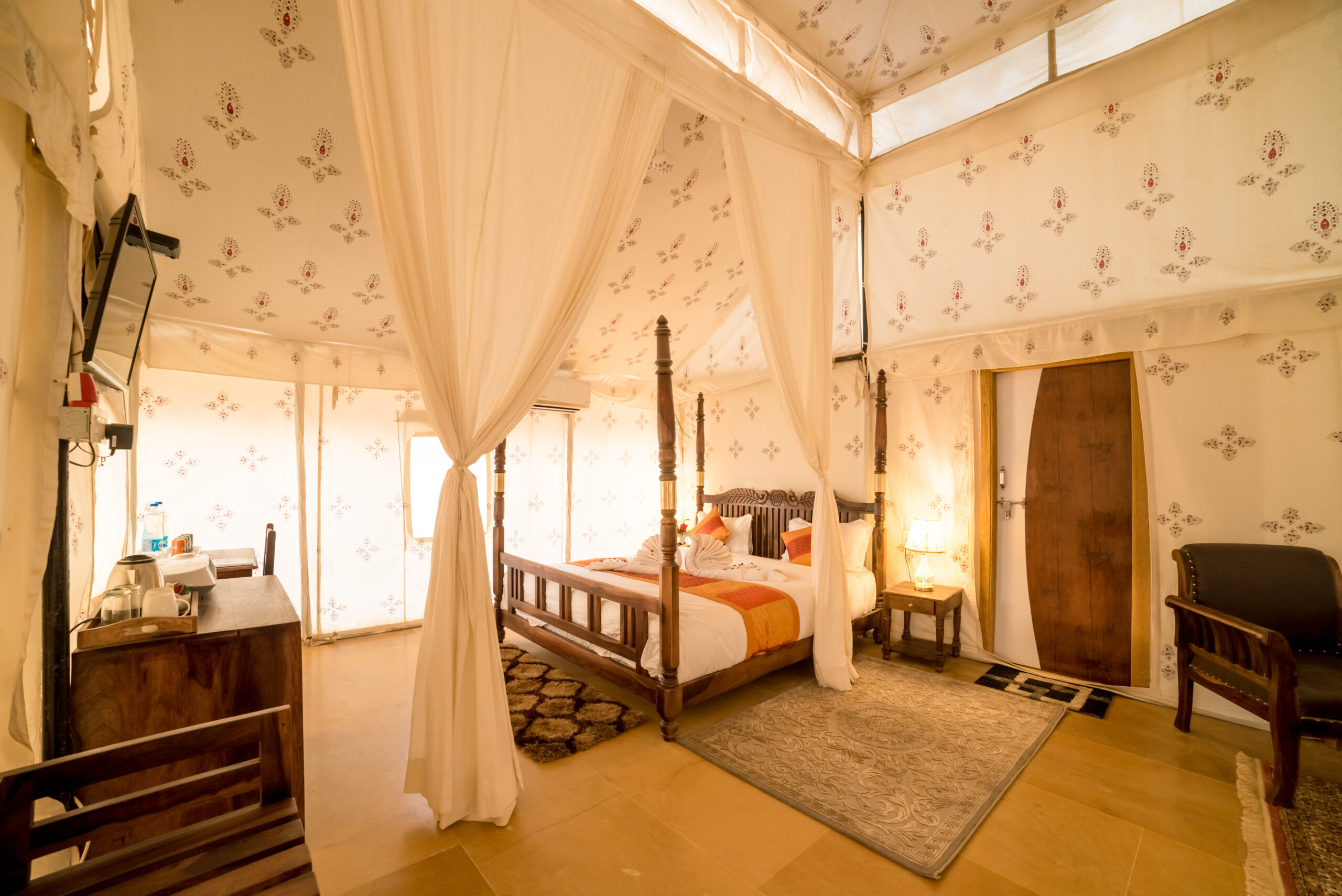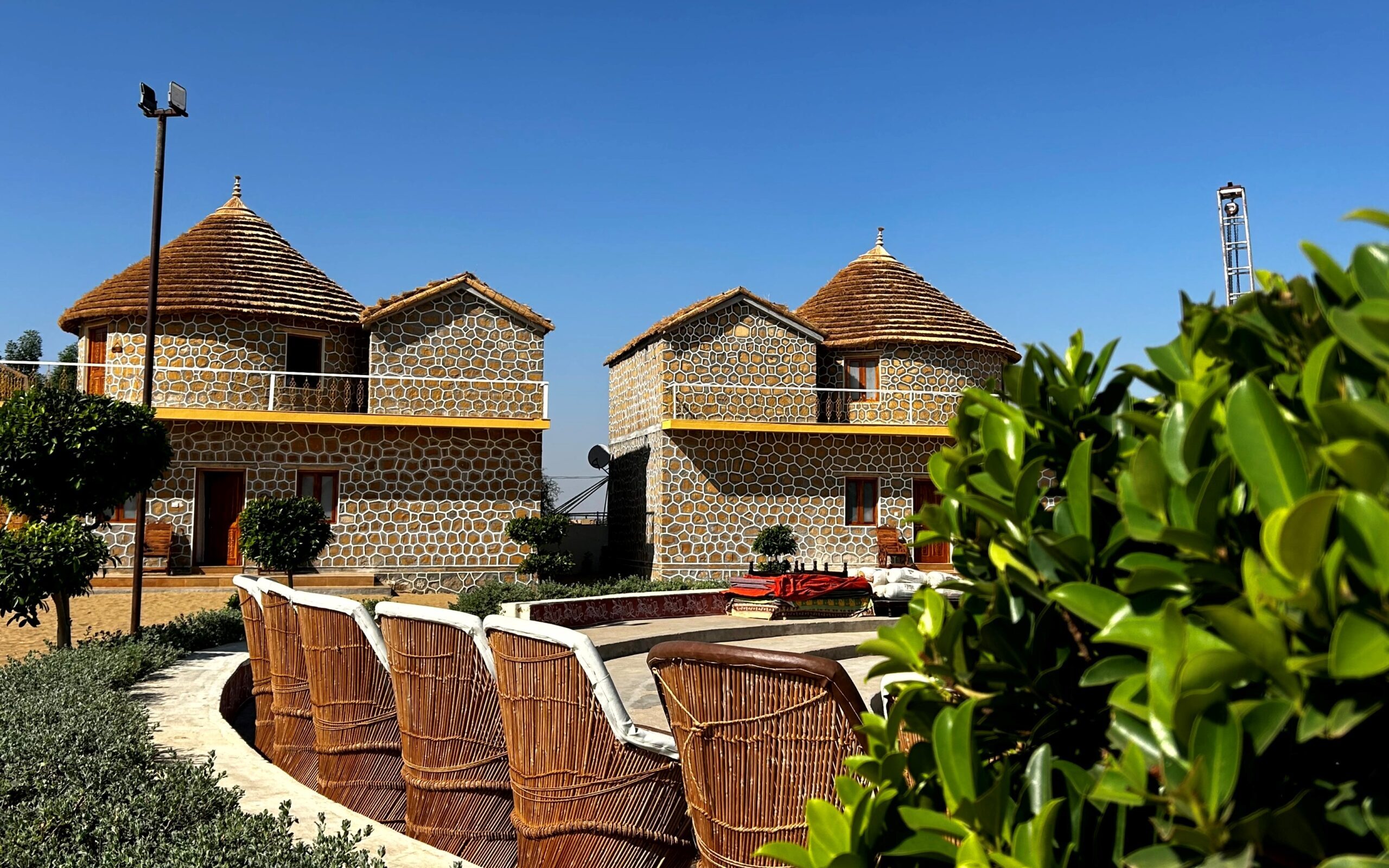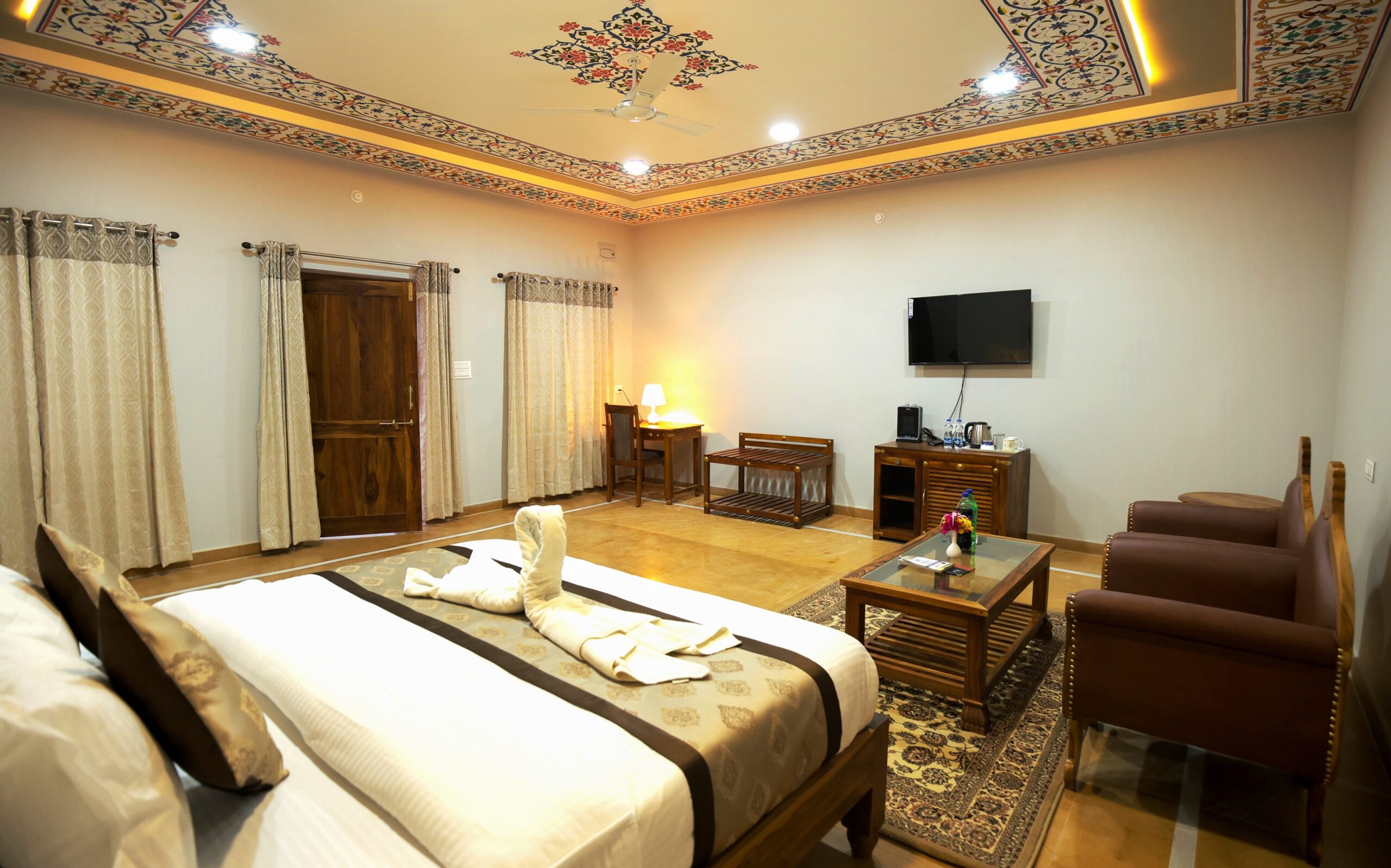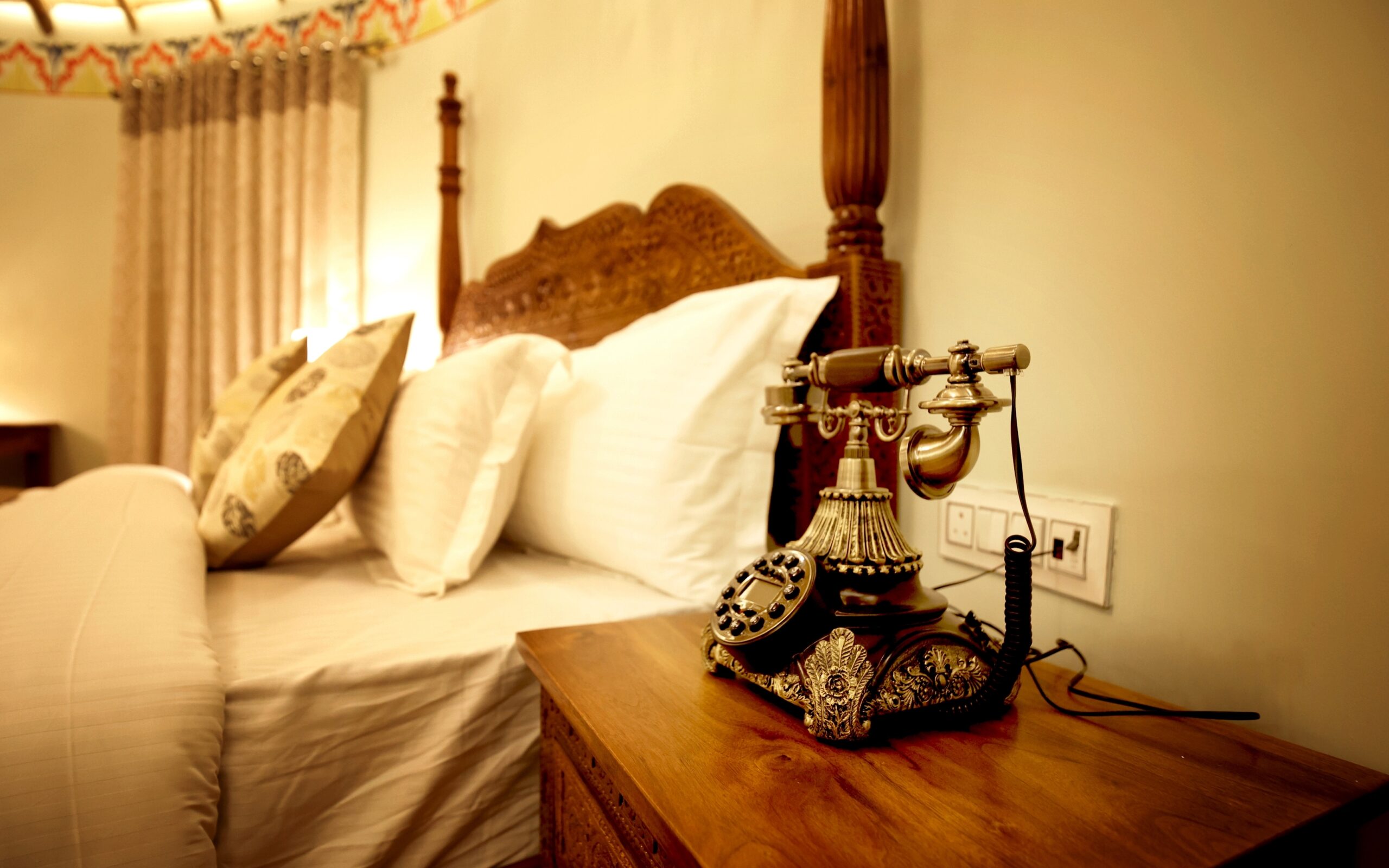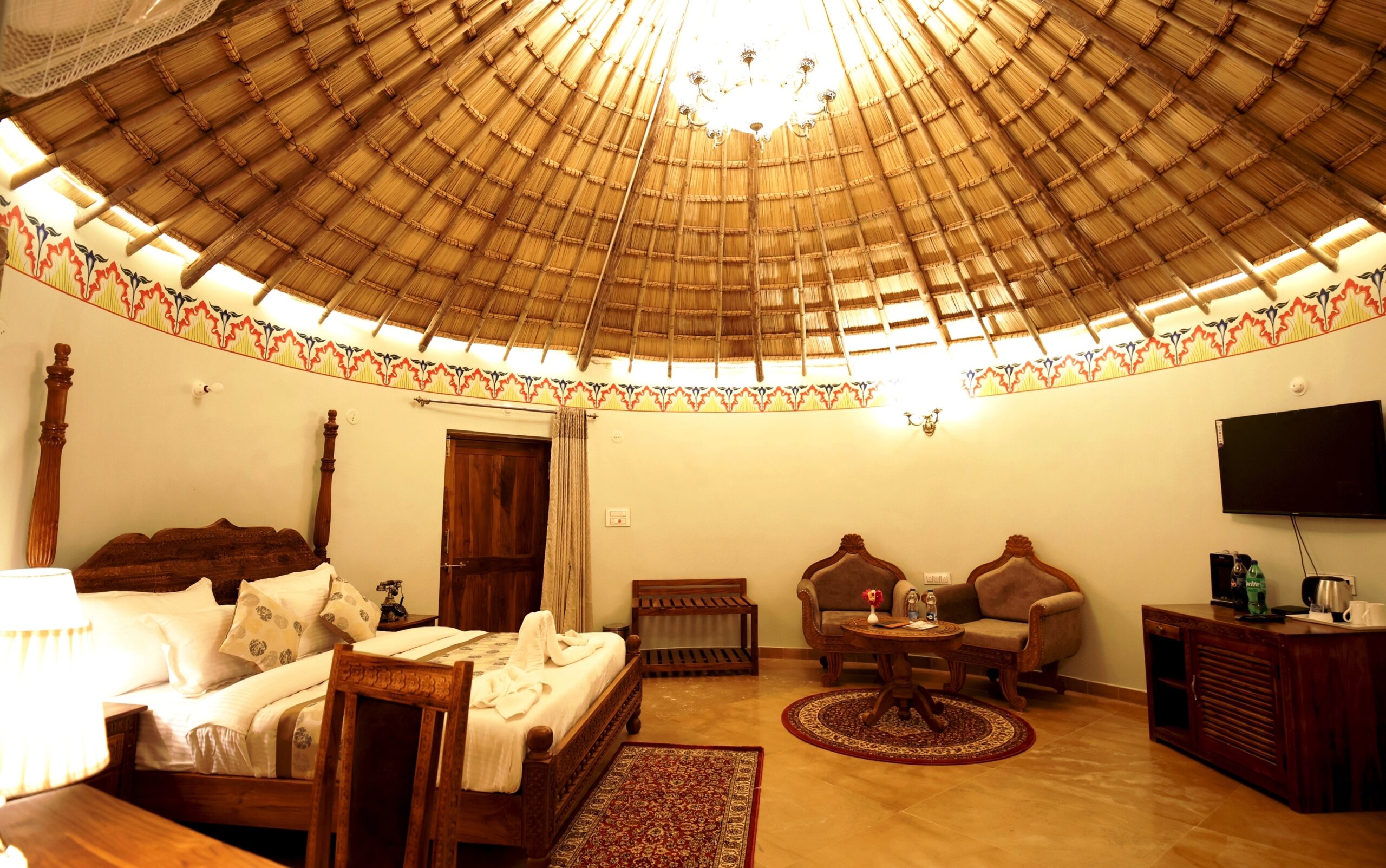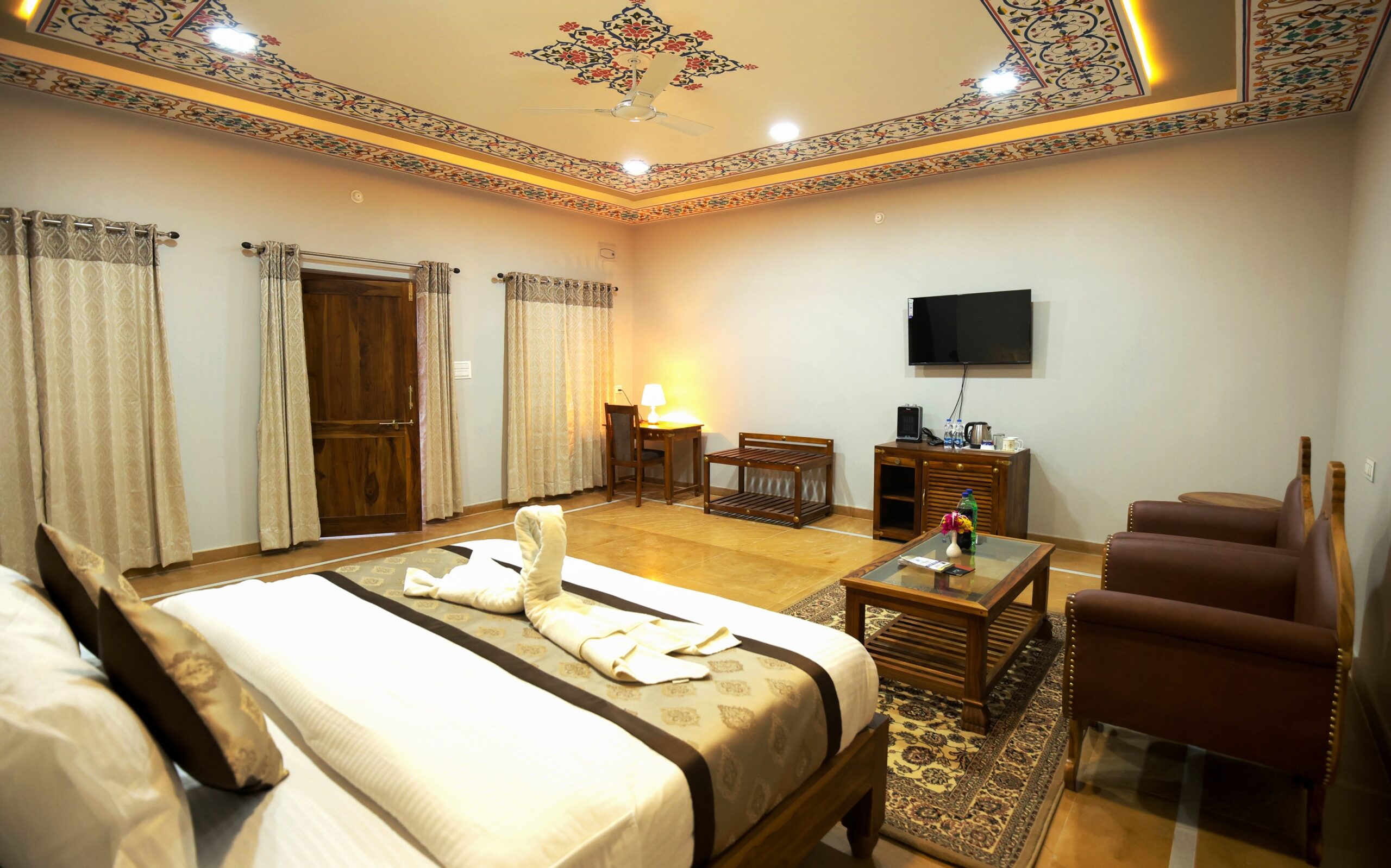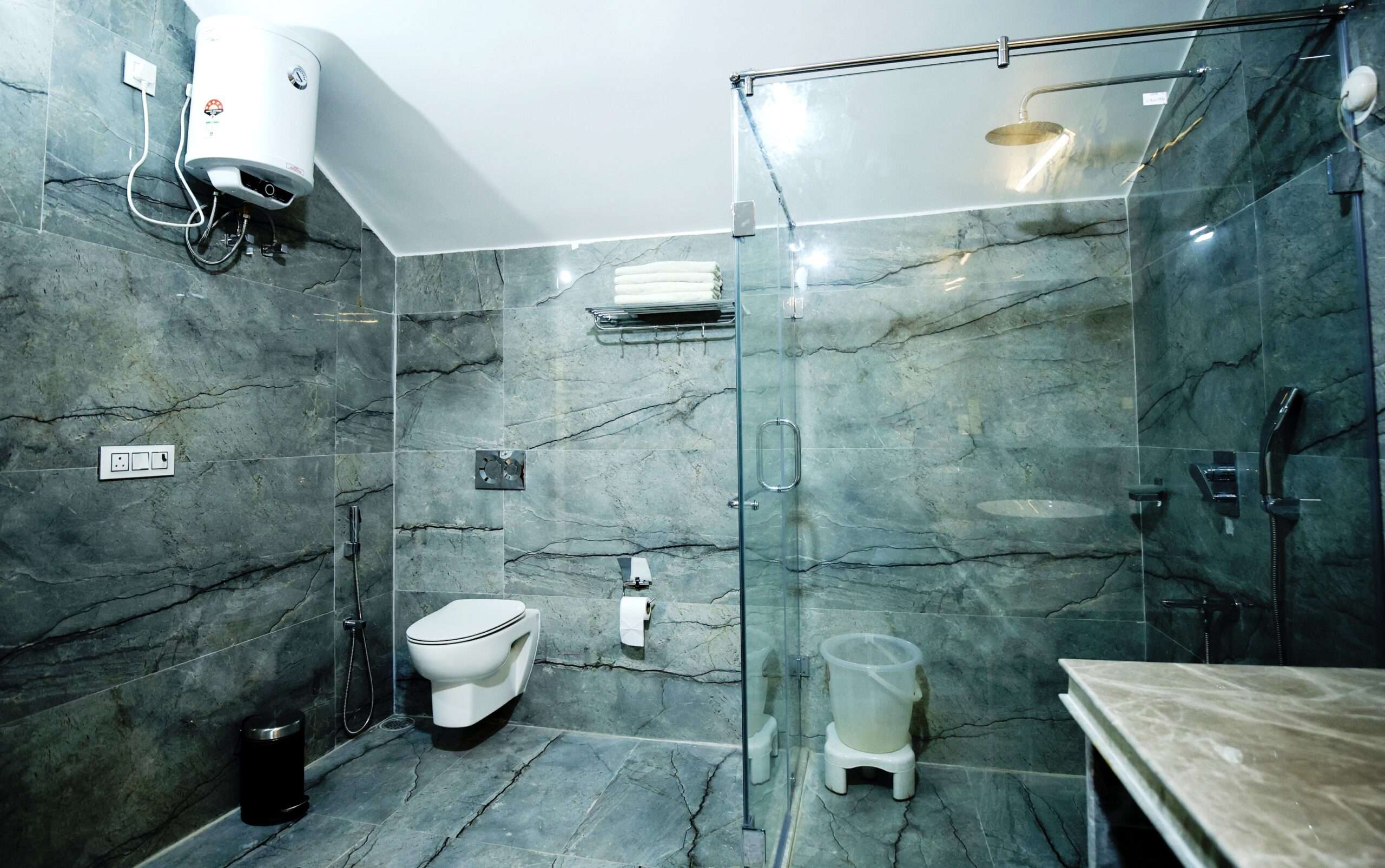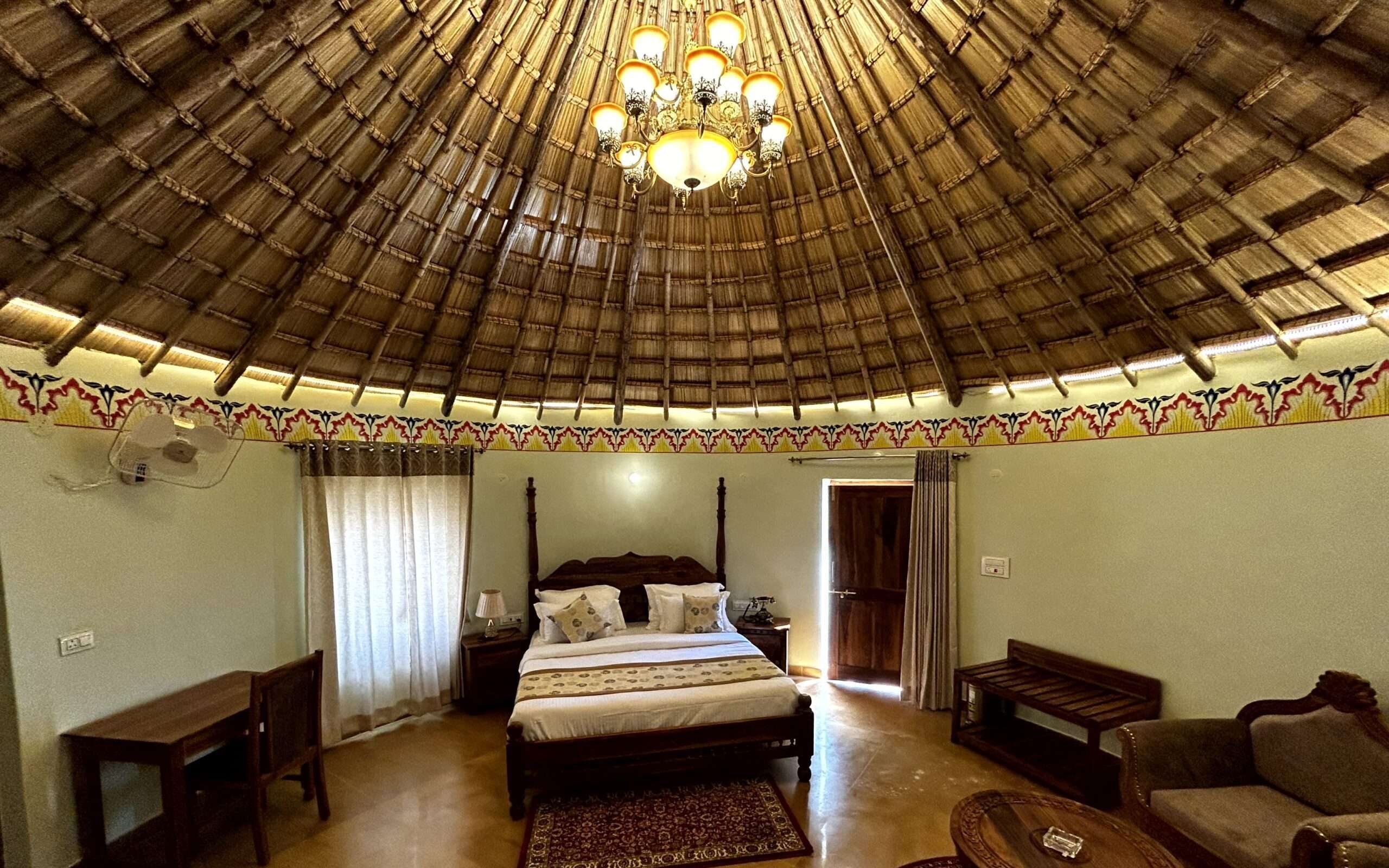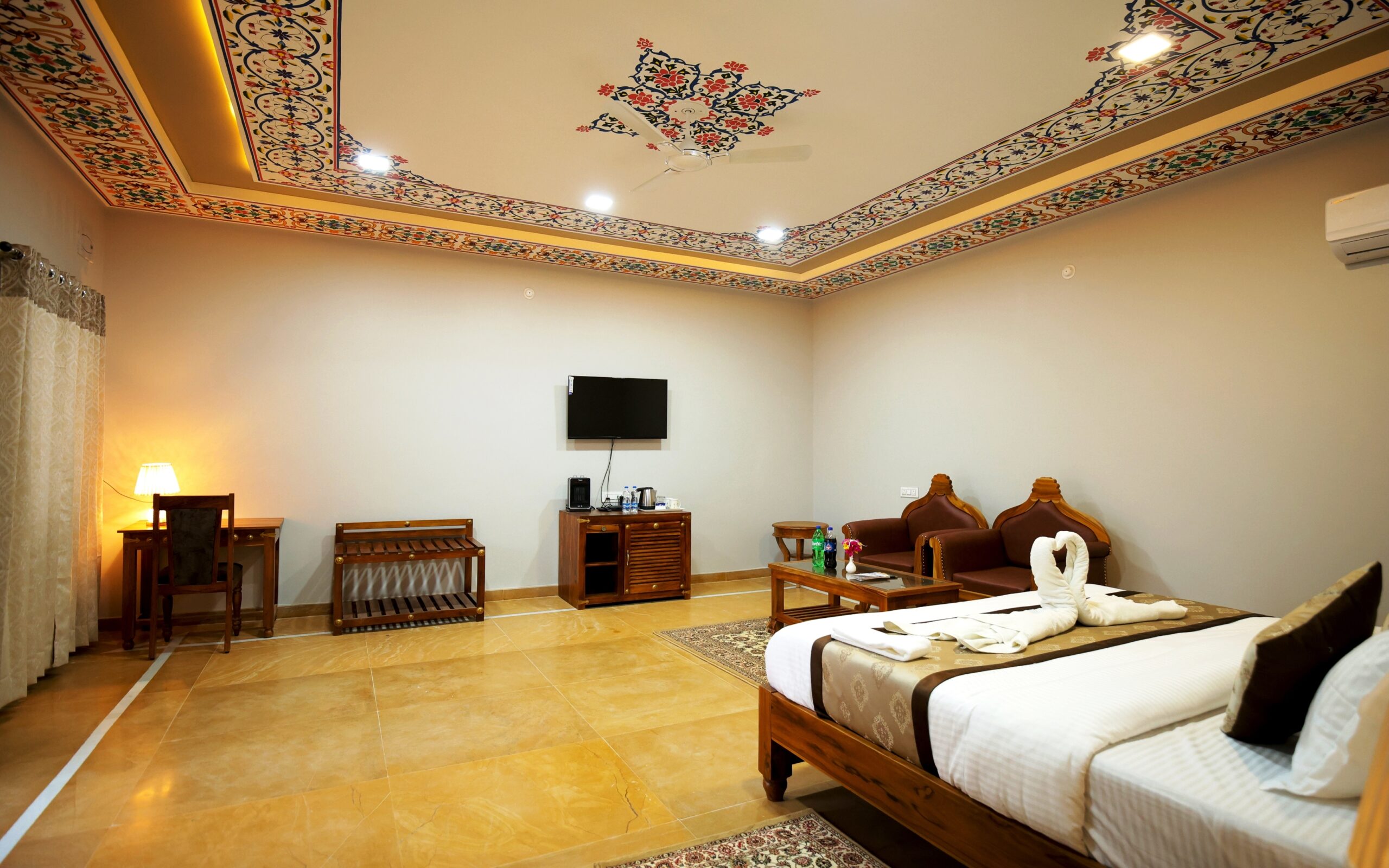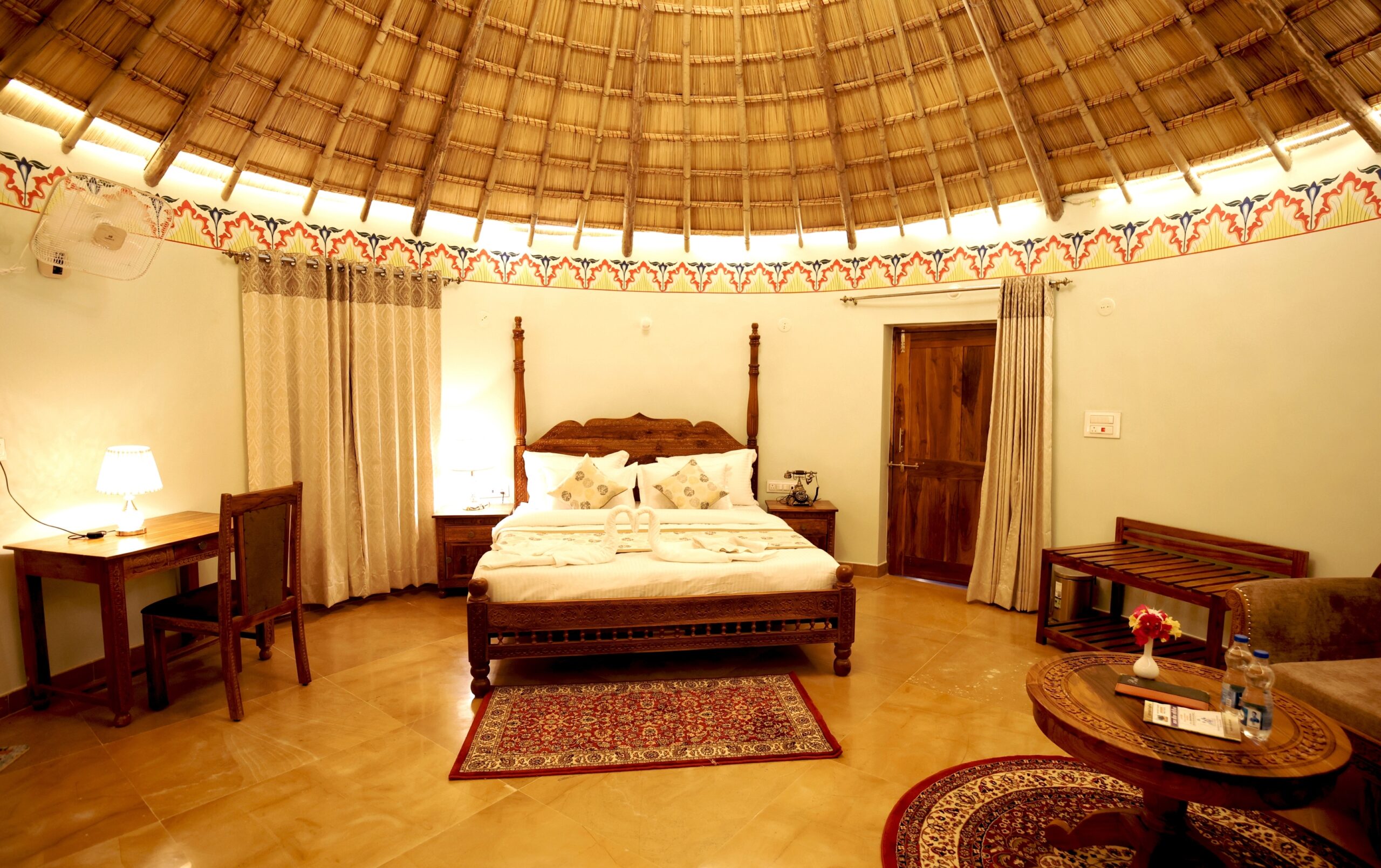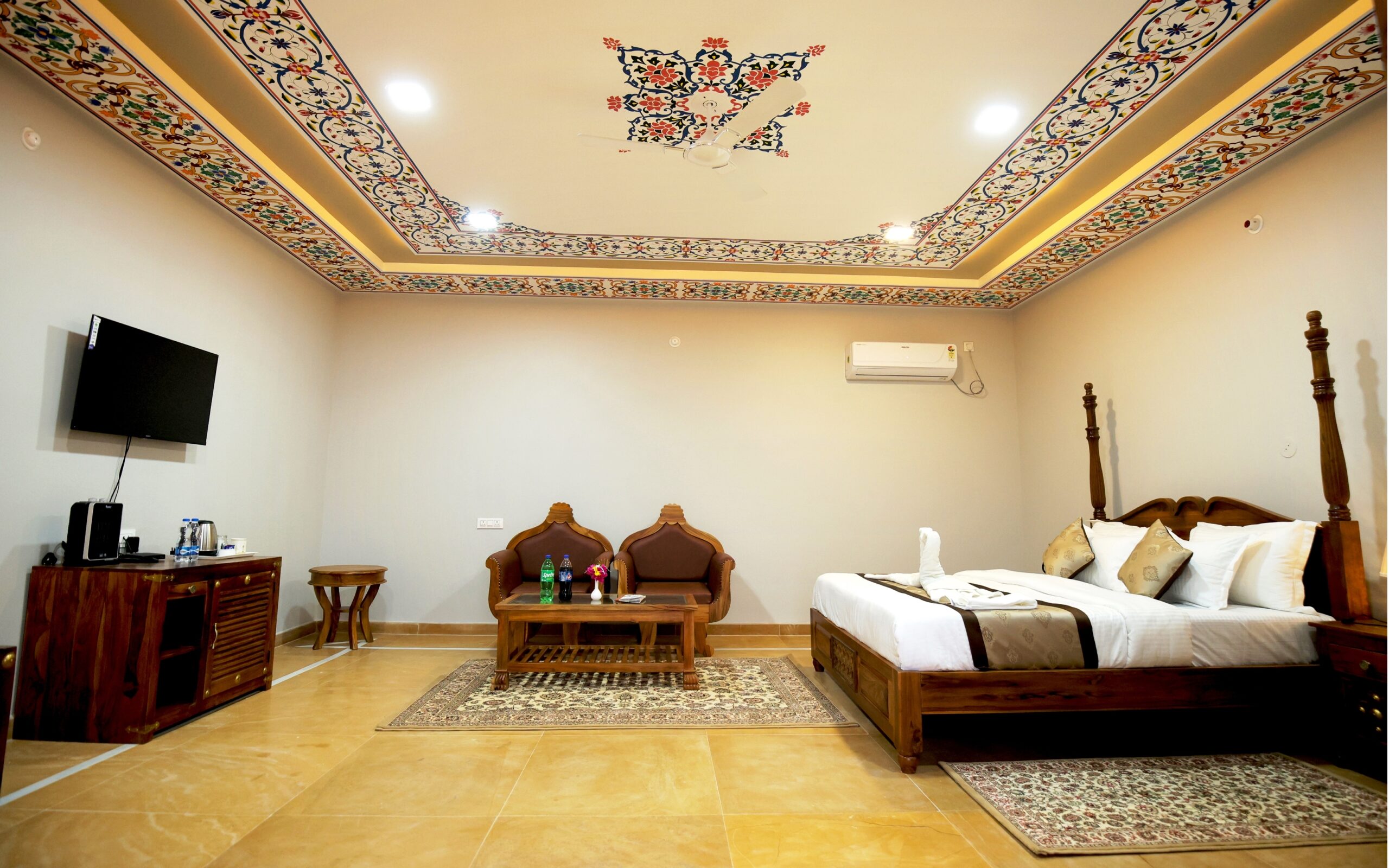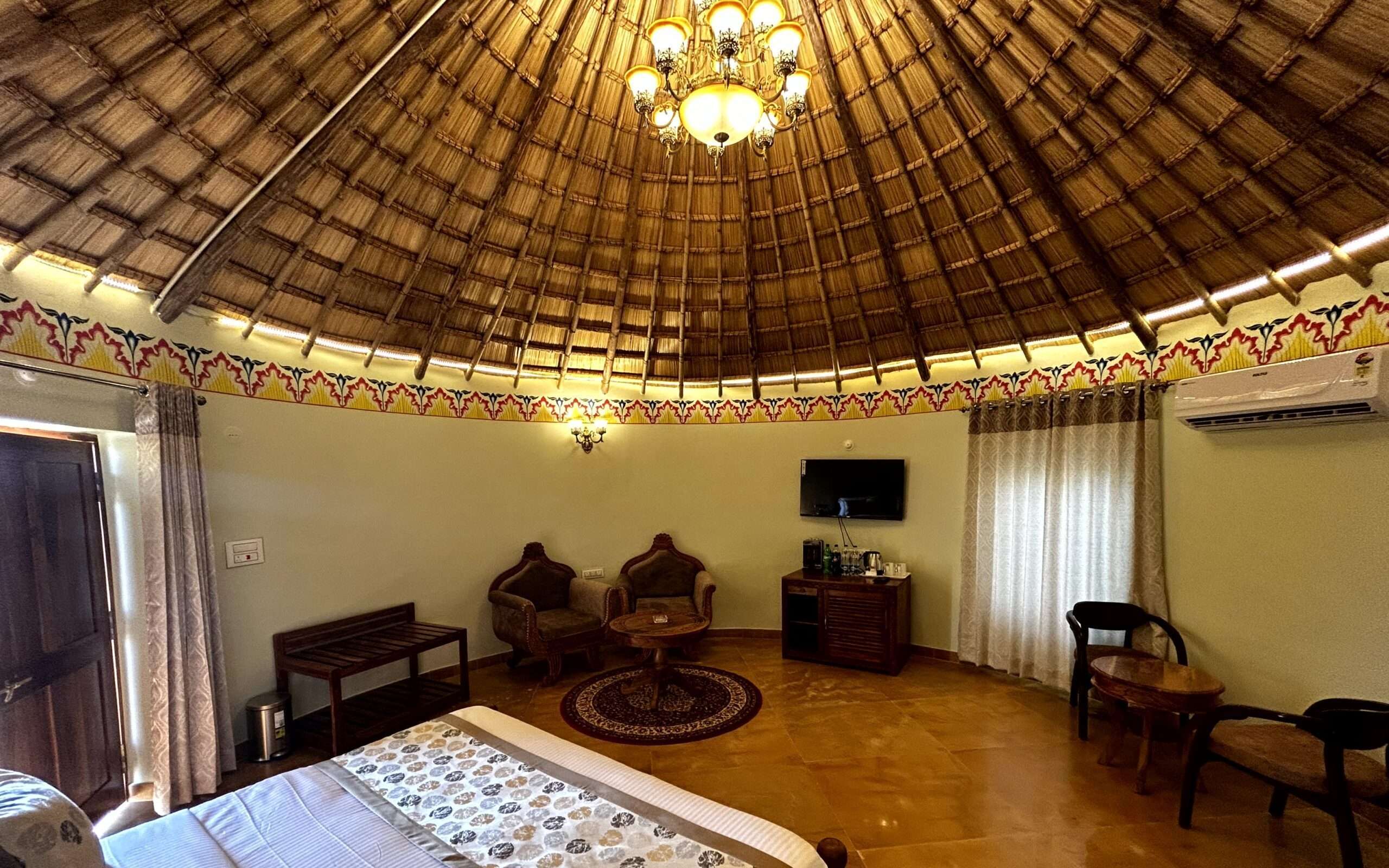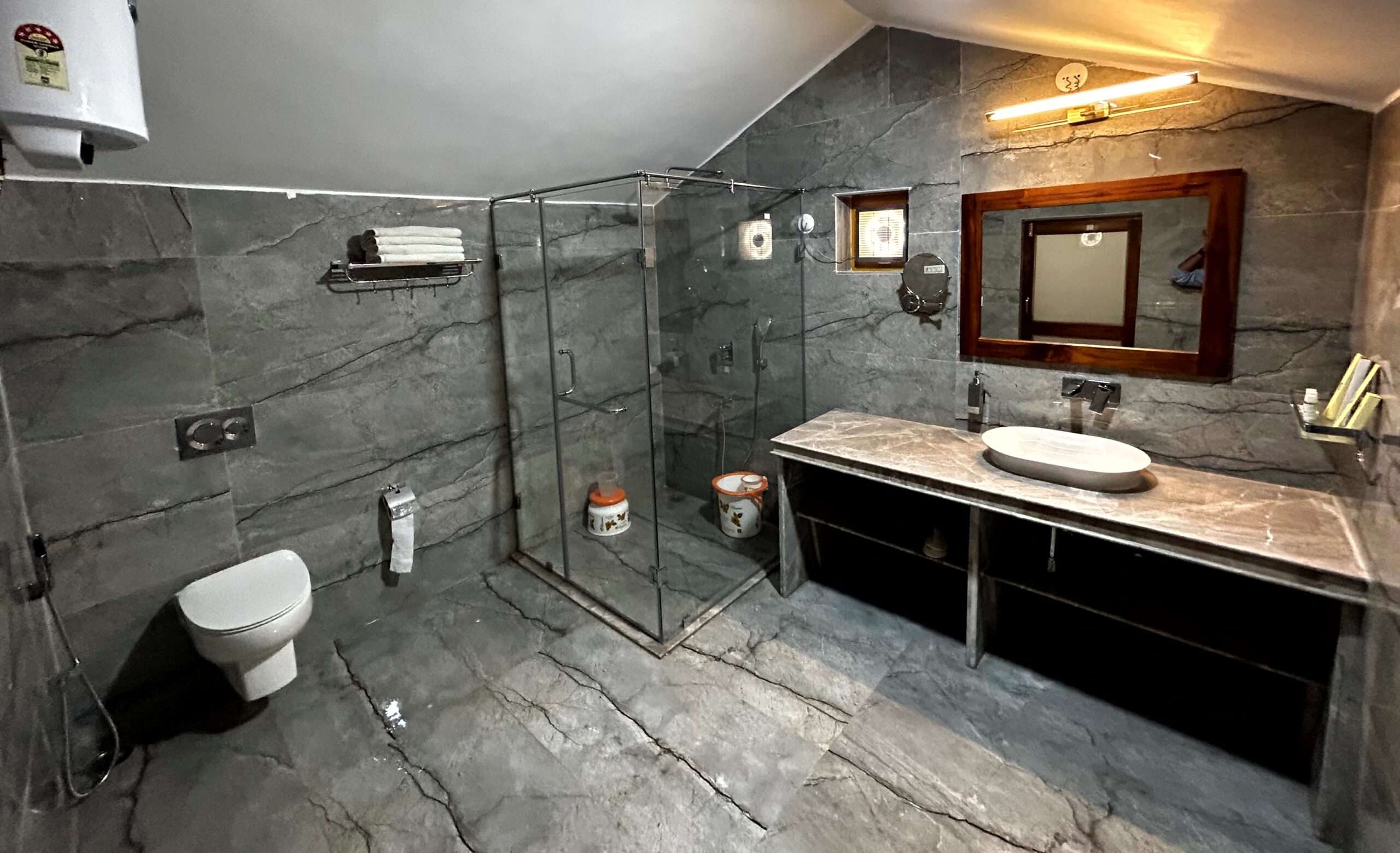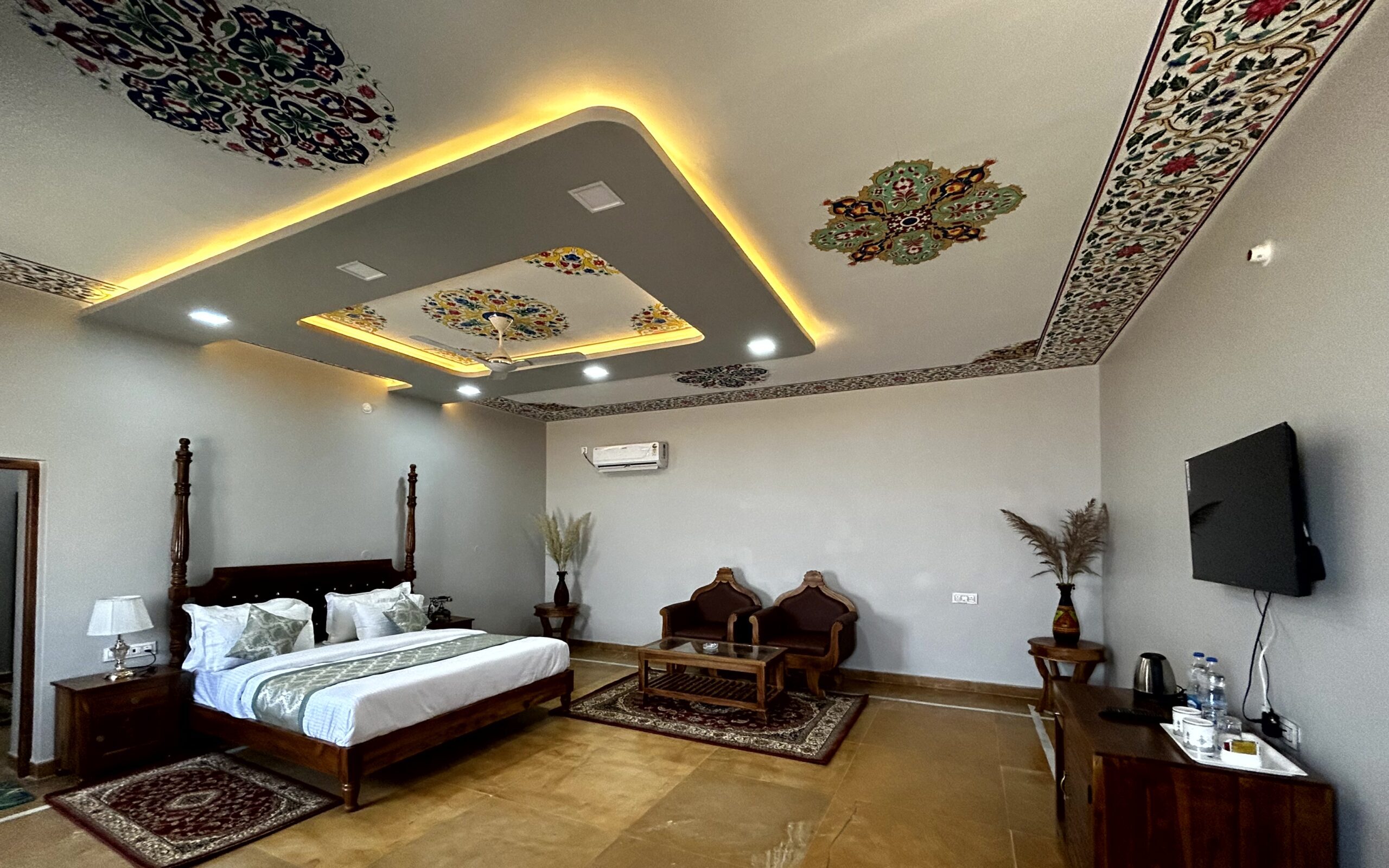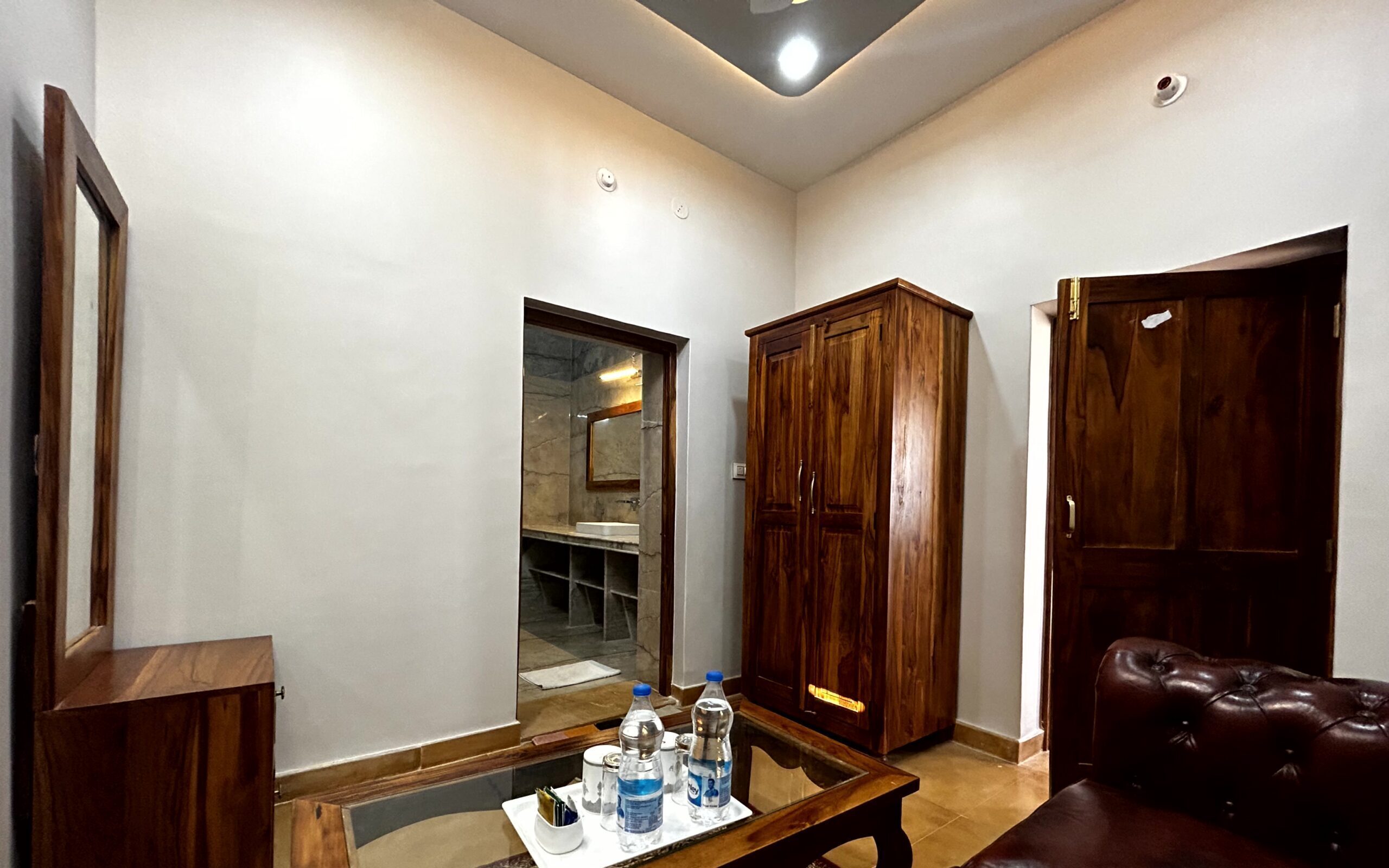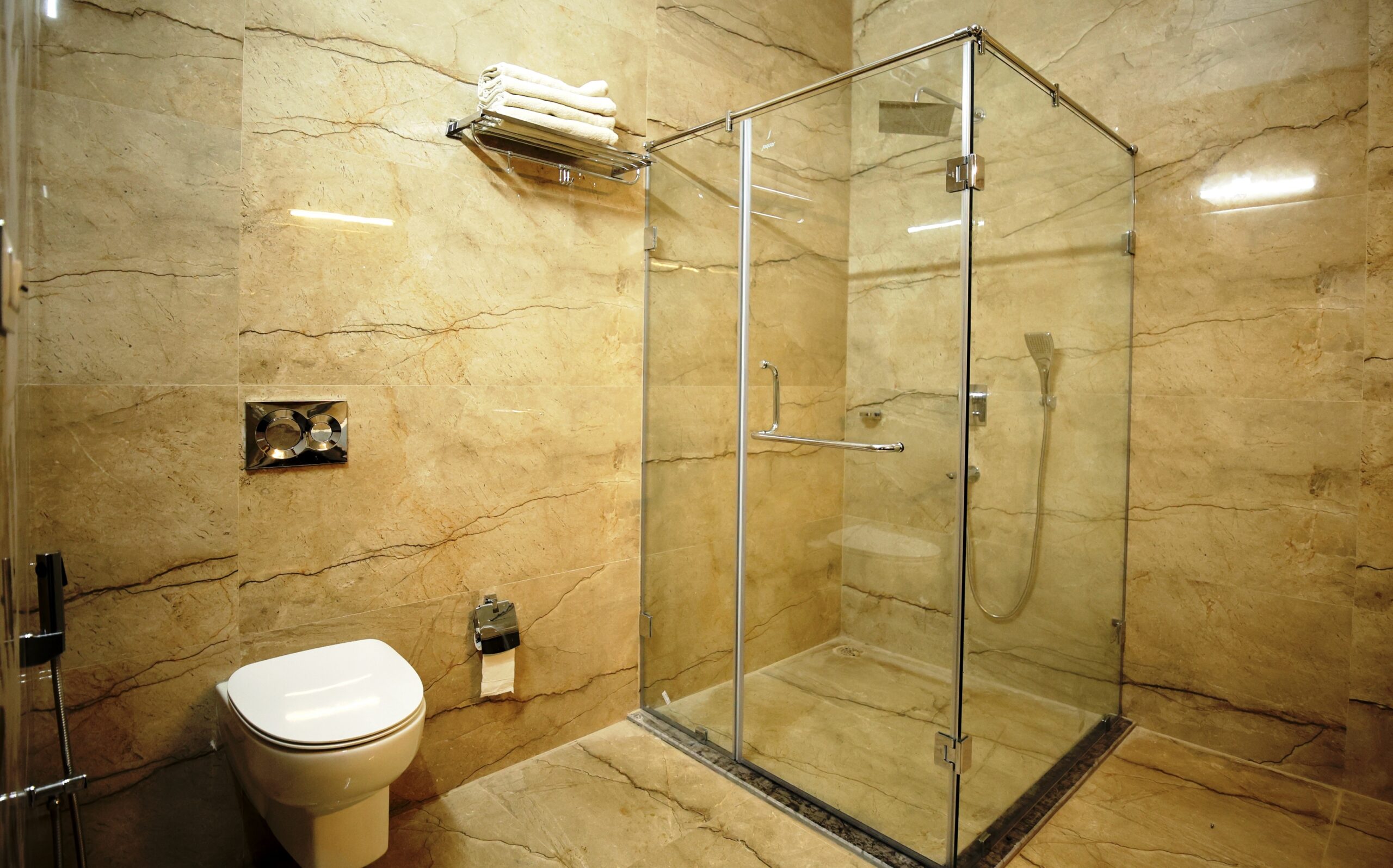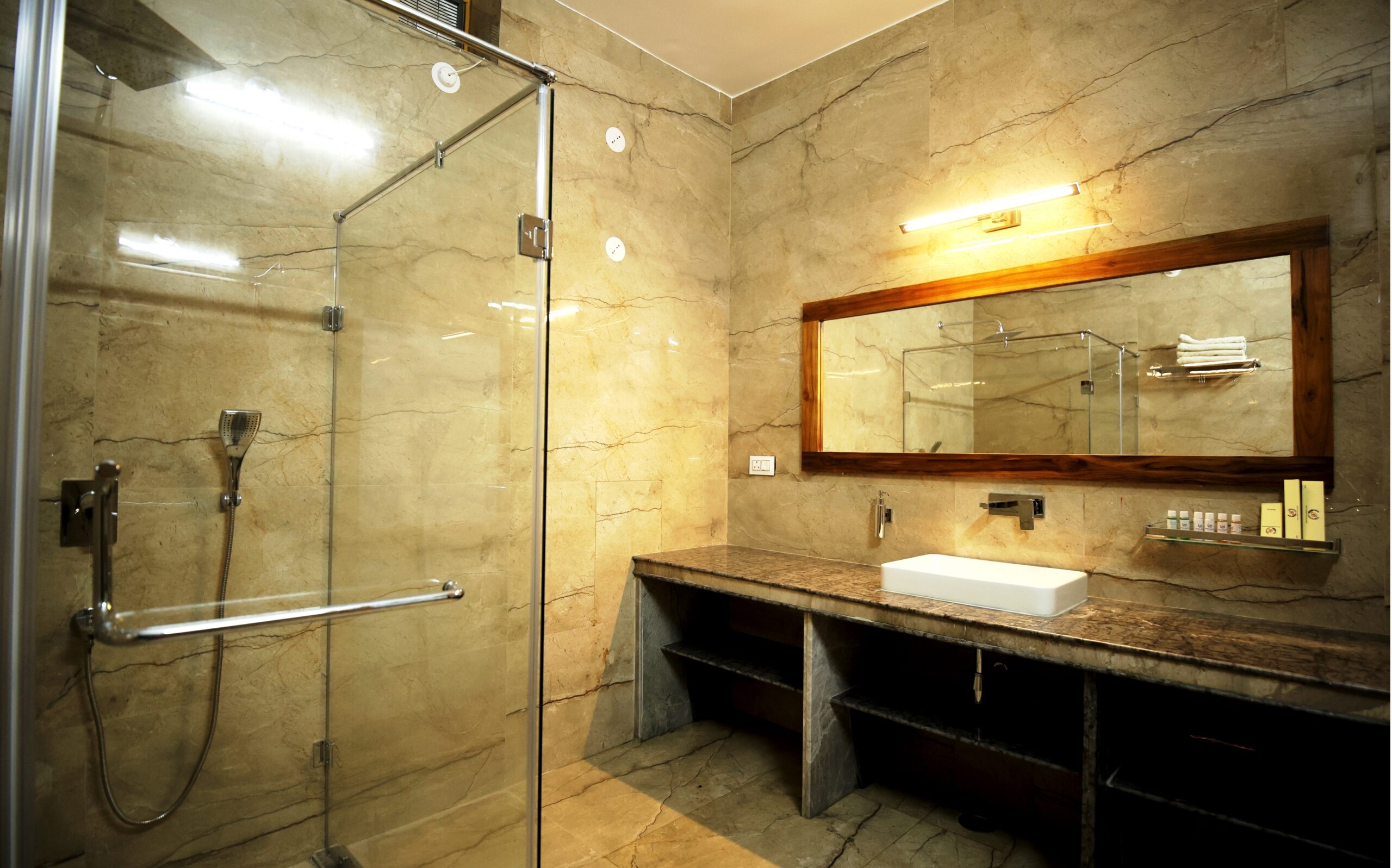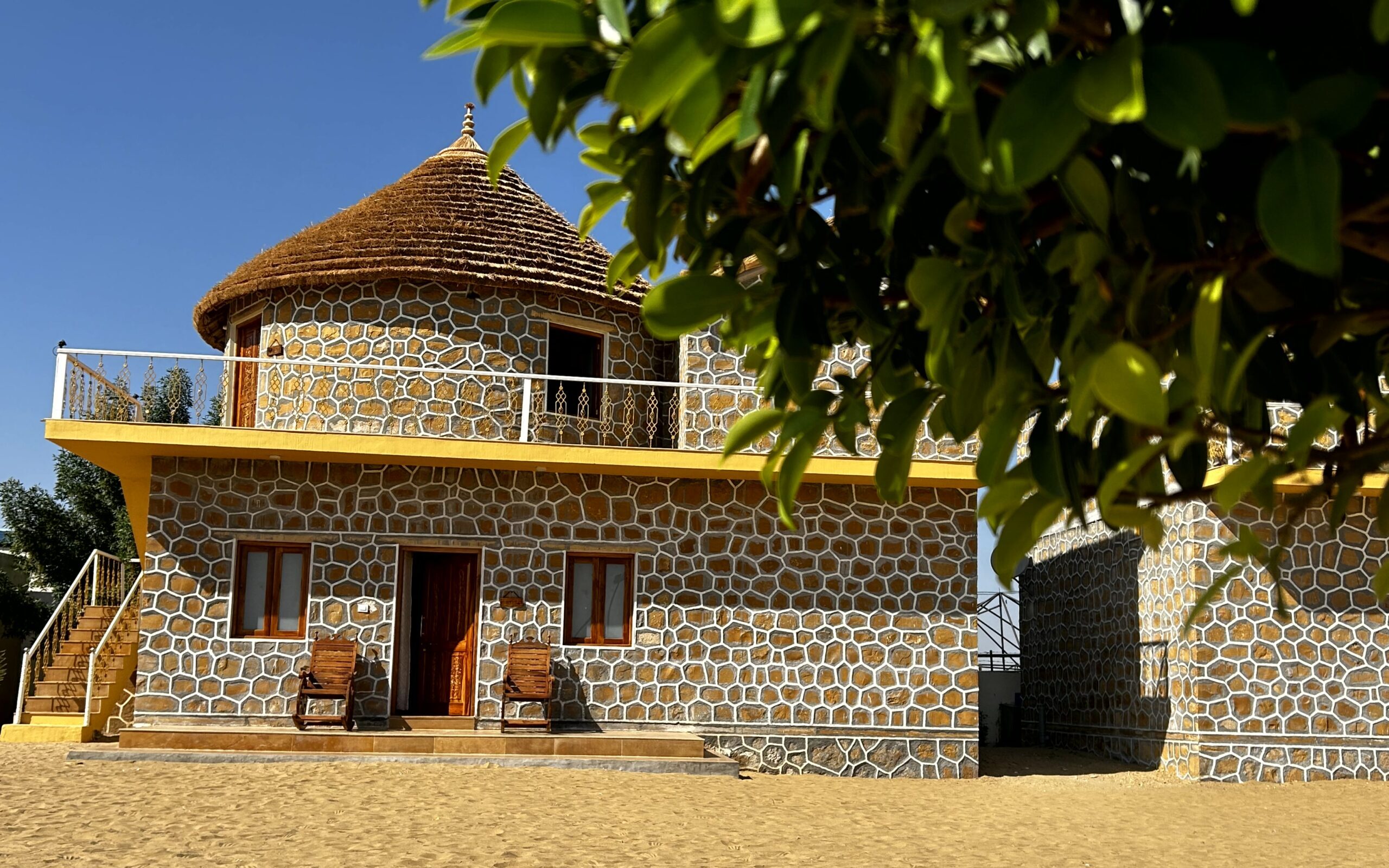 Bhavya Villa encapsulates Jaisalmer's desert allure, blending regal golden stone walls with vintage furnishings and a cozy seating area on the ground floor. Its Western-style washroom merges modern comfort with timeless charm.
Ascending to the first floor reveals a circular sanctuary crafted from Jaisalmeri stones and rustic wooden accents, echoing the desert's heritage. Hut-shaped amenities evoke serenity while showcasing impeccable craftsmanship, harmonizing luxury with the region's rich legacy.
Bhavya Villa invites guests to relish an enchanting fusion of tradition and opulence, where Rajasthan's desert landscape meets contemporary comfort in an unforgettable oasis.
Bring tradition and modernity concurrently, the bhavya luxury suite gives you astonishing luxury with a sense of the old countryside area of Jaisalmer. A perfect round rustic cottage with a thatched roof keeping the suite temperature naturally pleasant.
Our suite has been decorated with care and simplicity by keeping the mood of local artisanal style with chandeliers.
Book now and enjoy an authentic experience by staying in our uniquely designed traditional suites, reflecting the local culture of Rajasthan.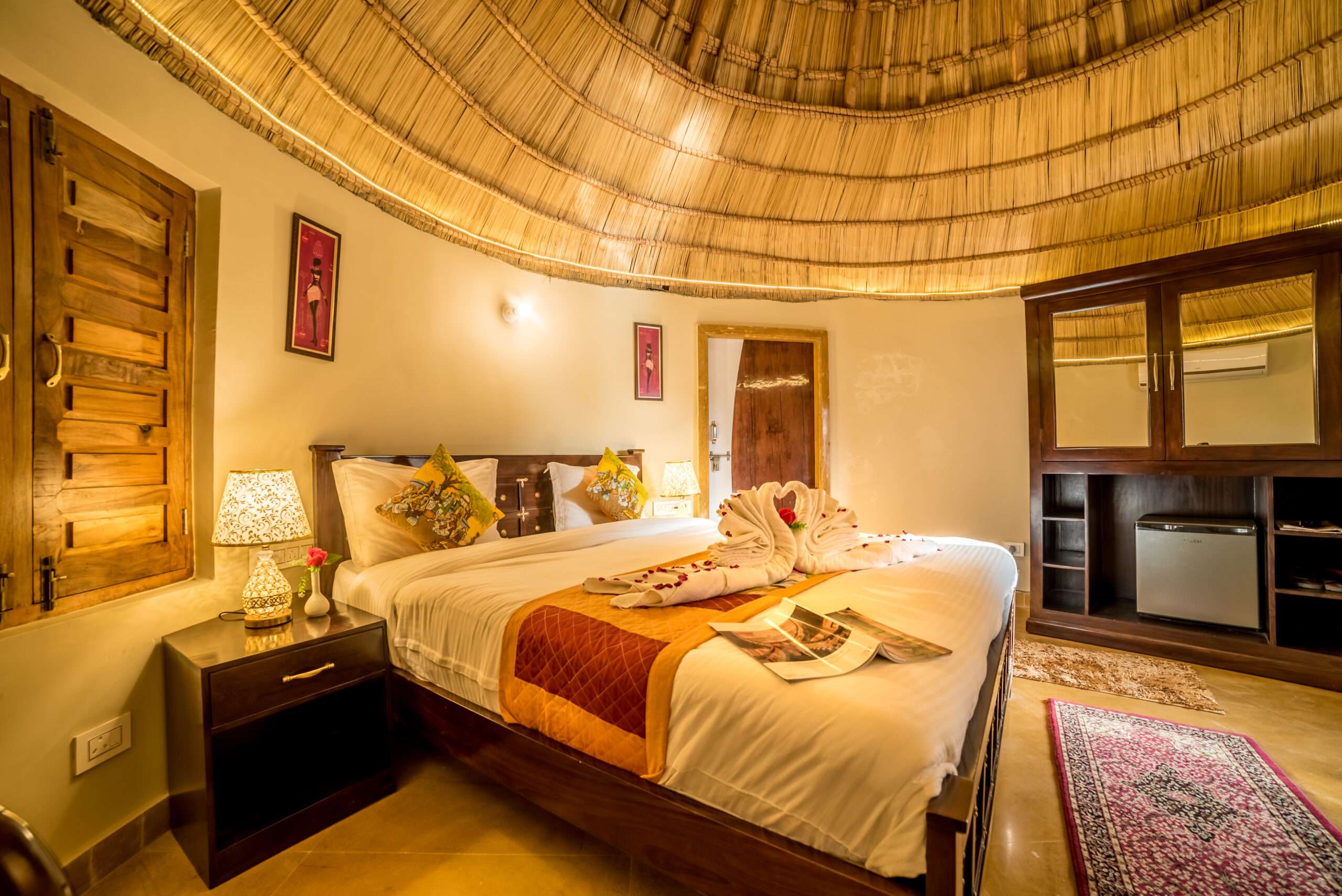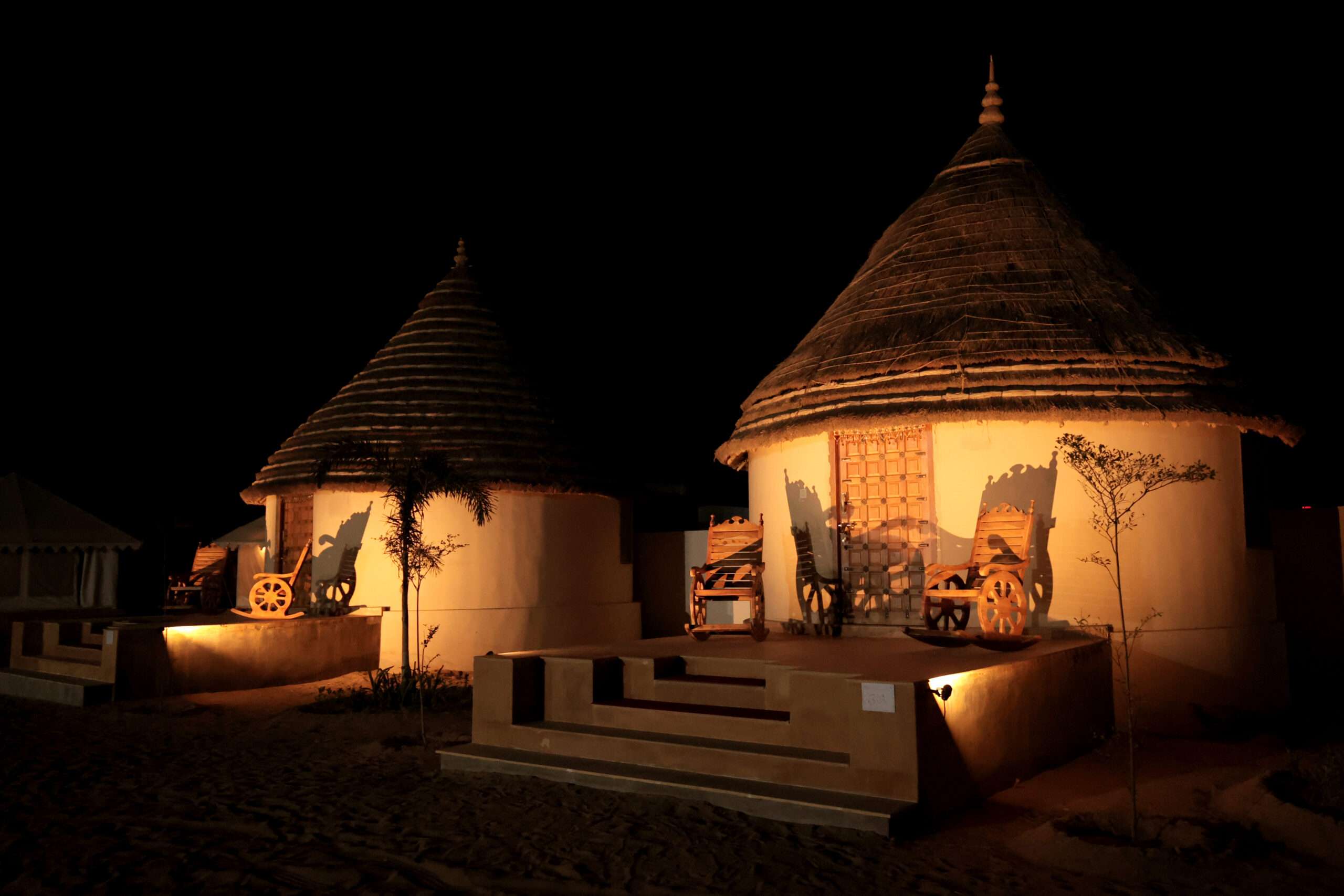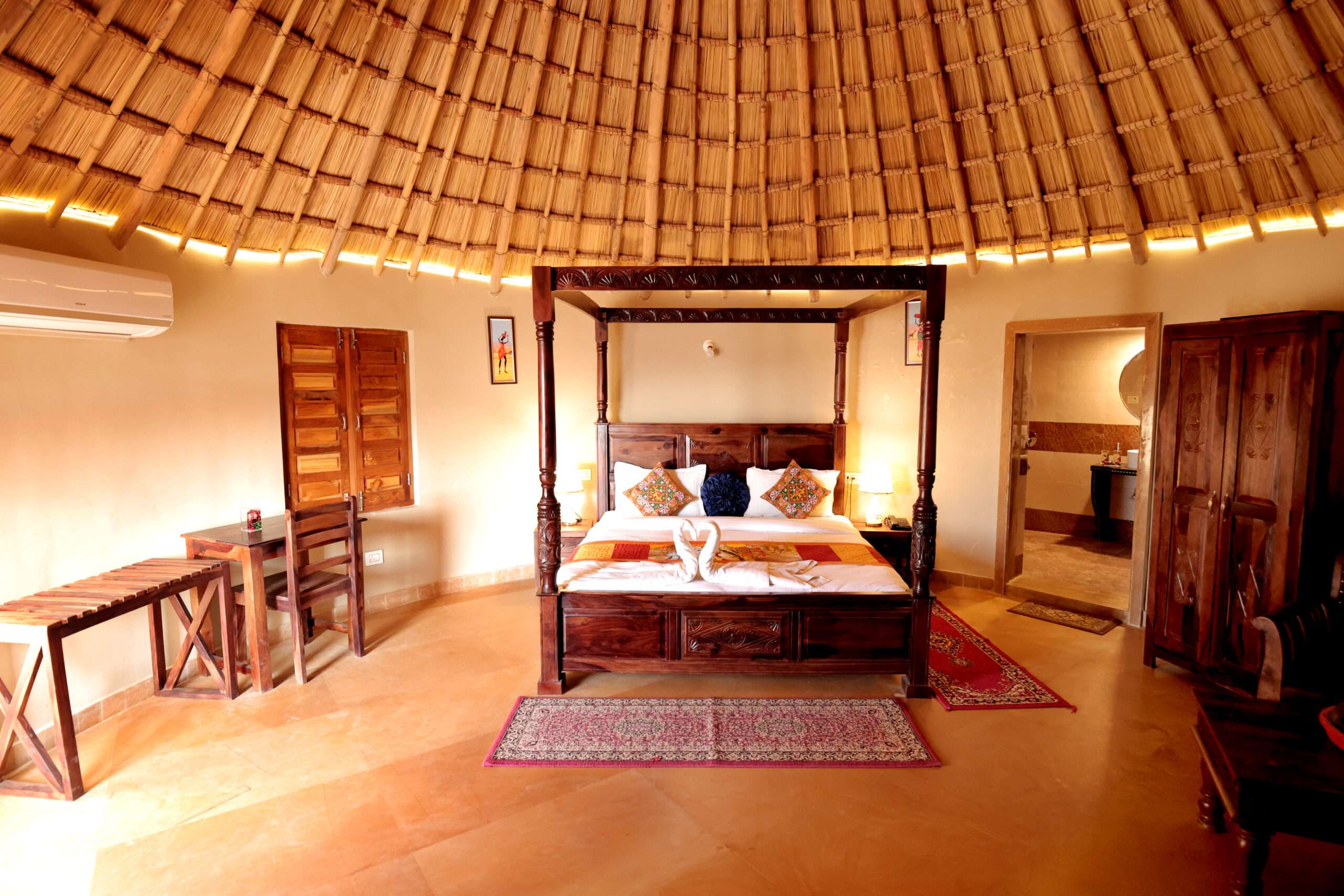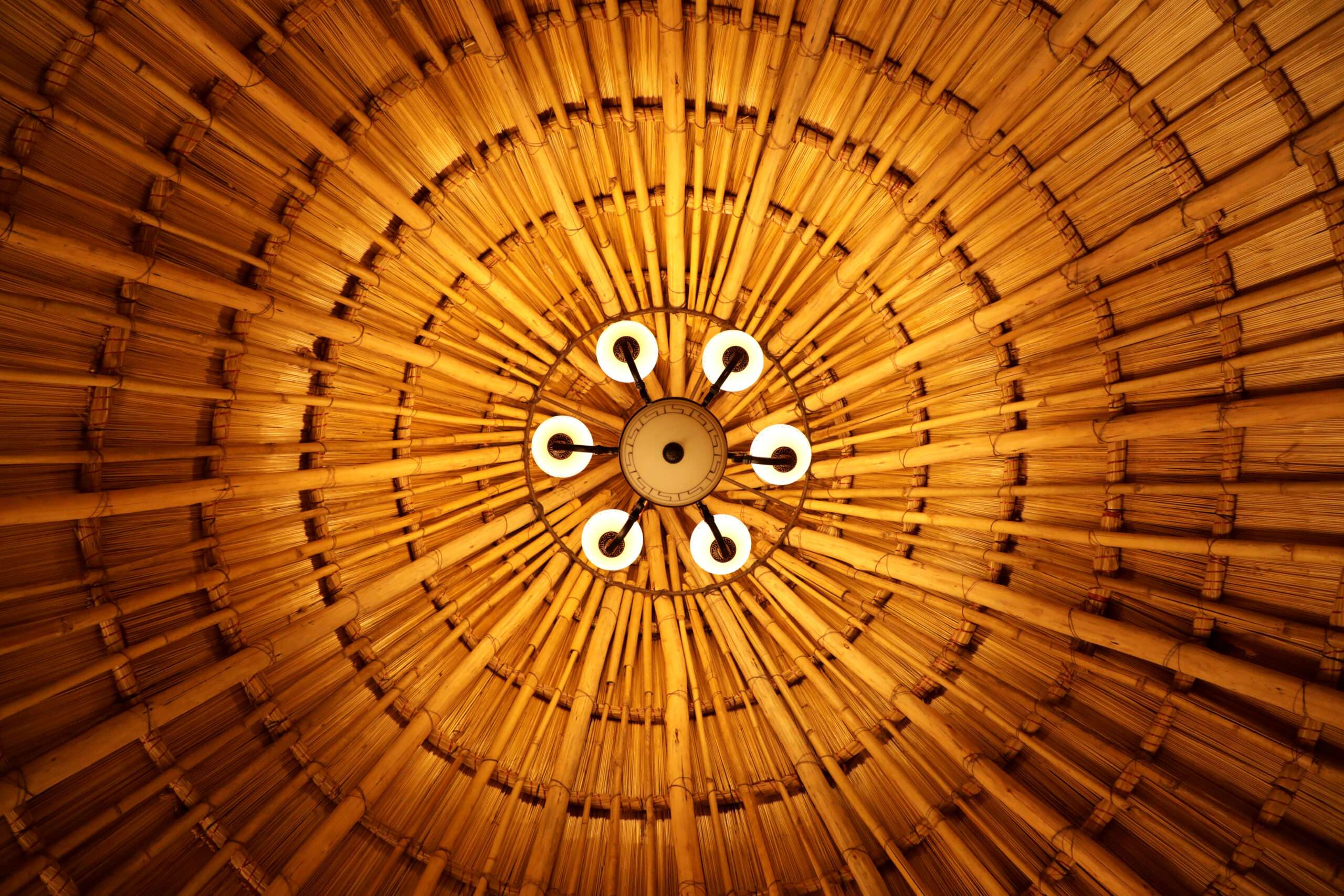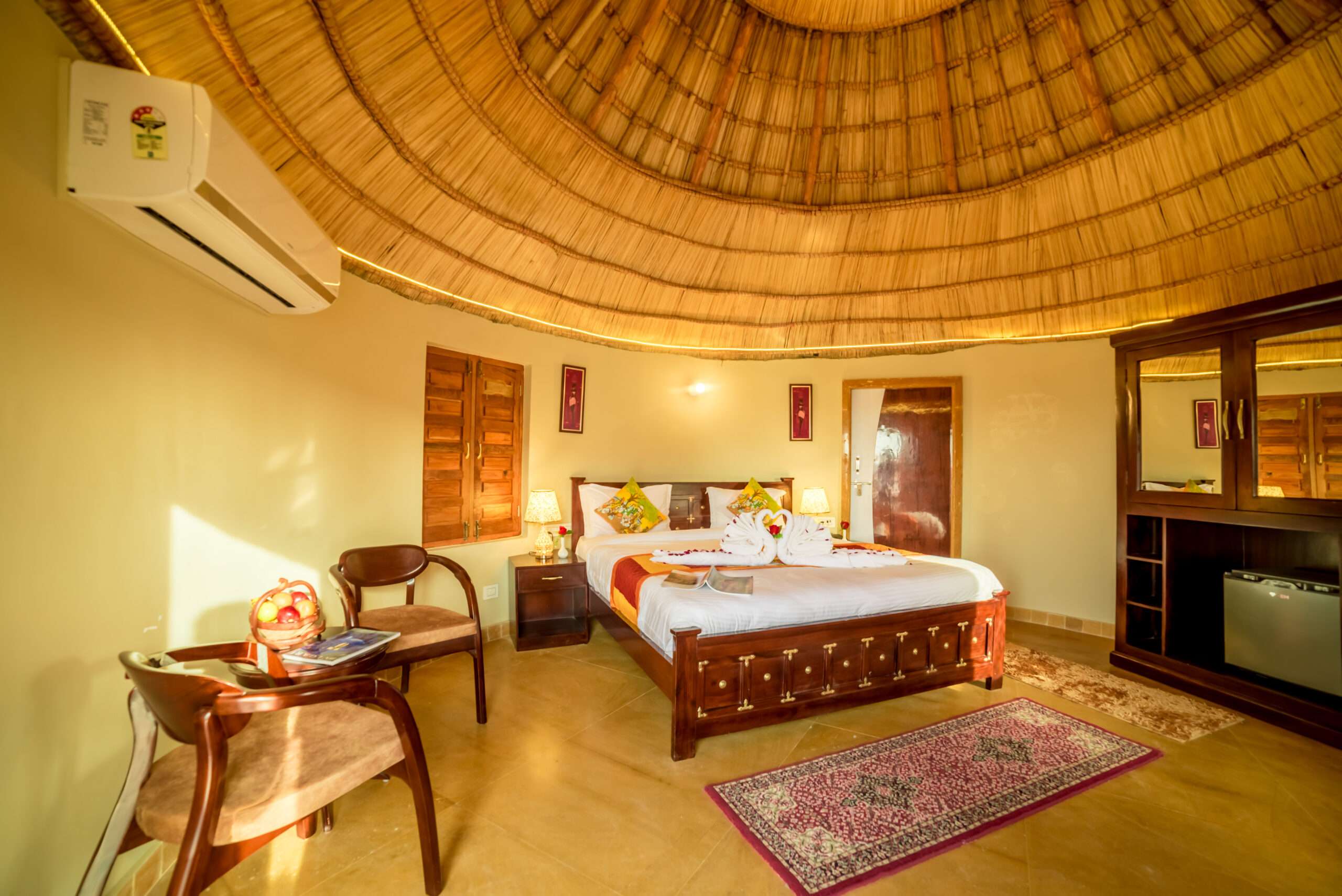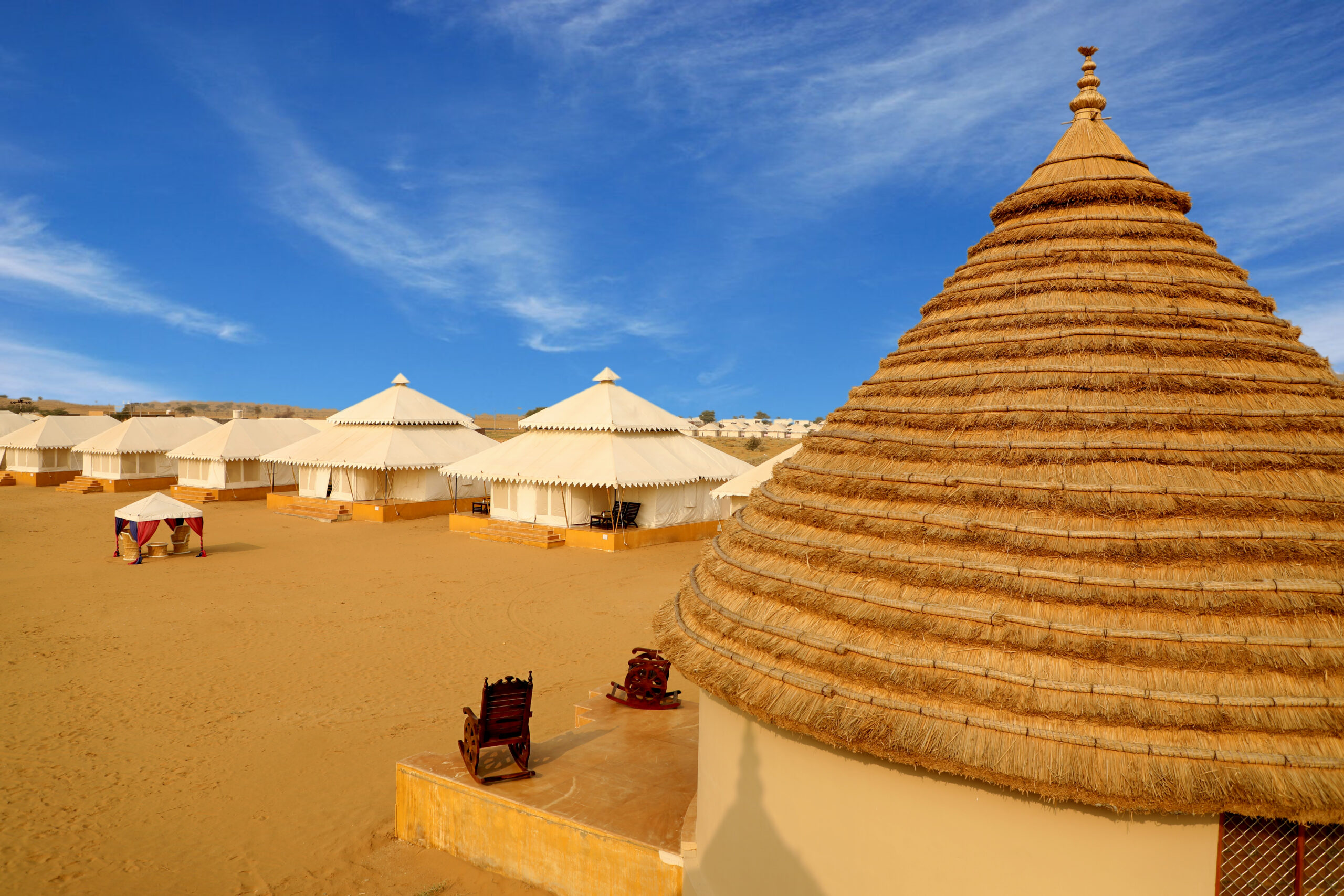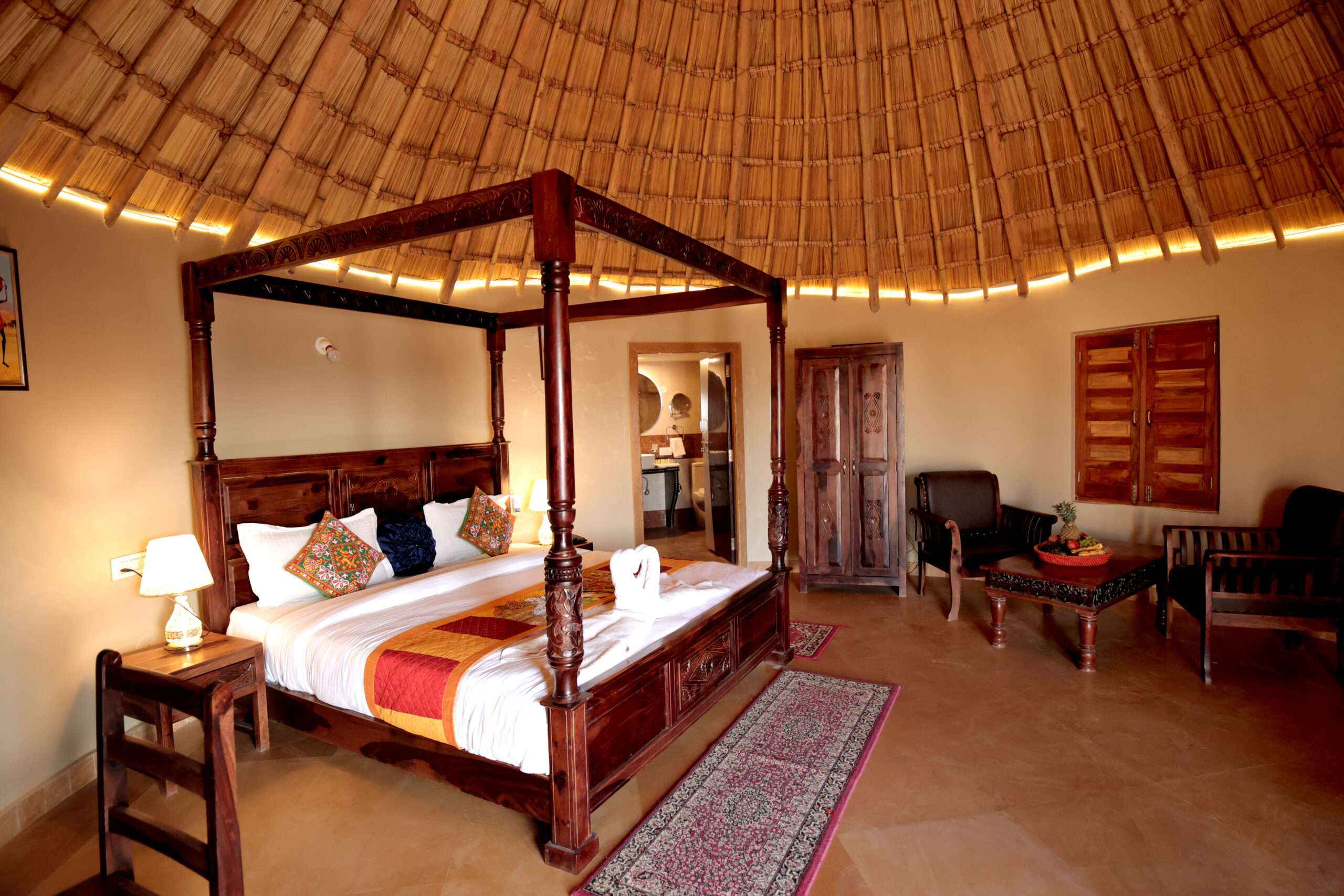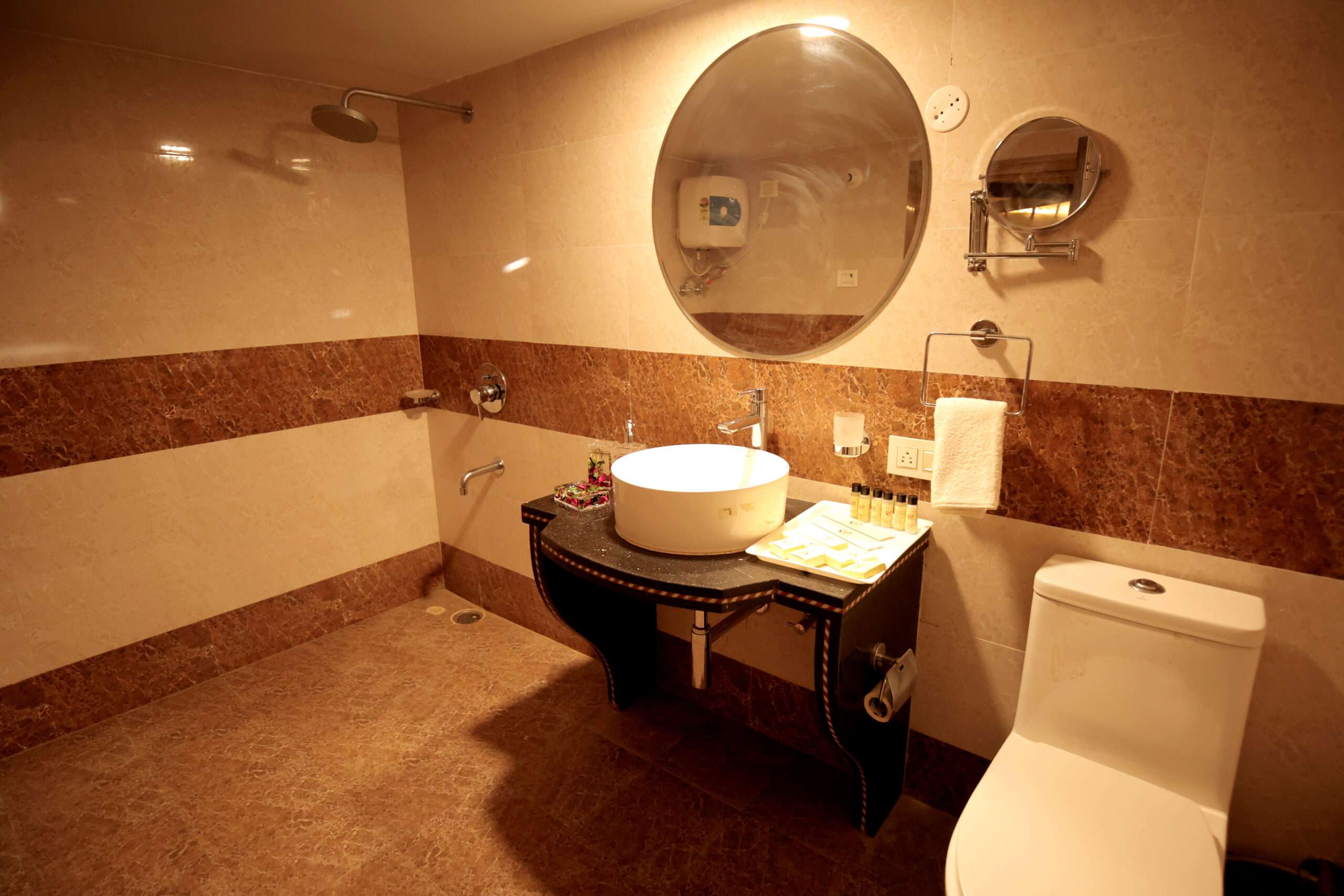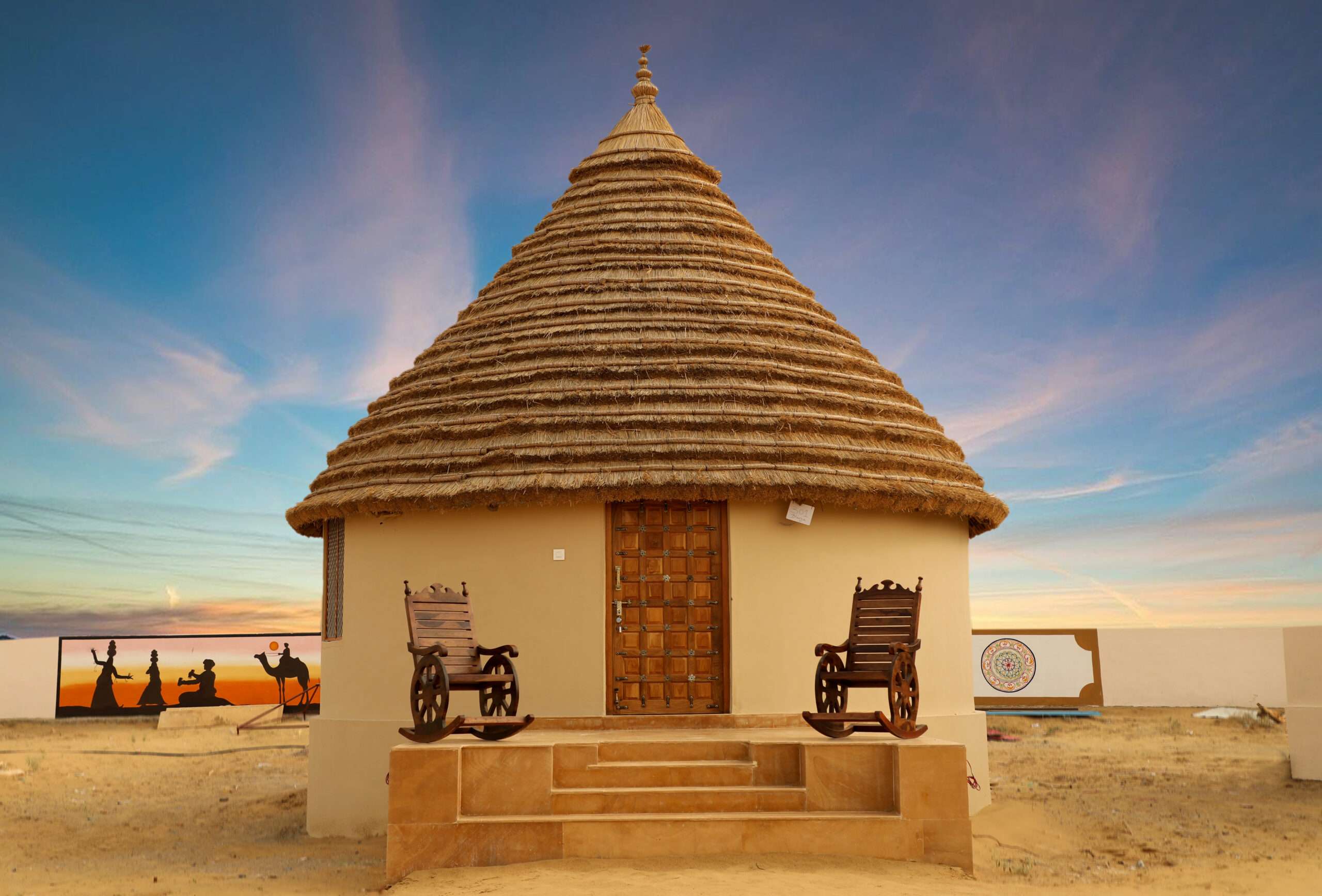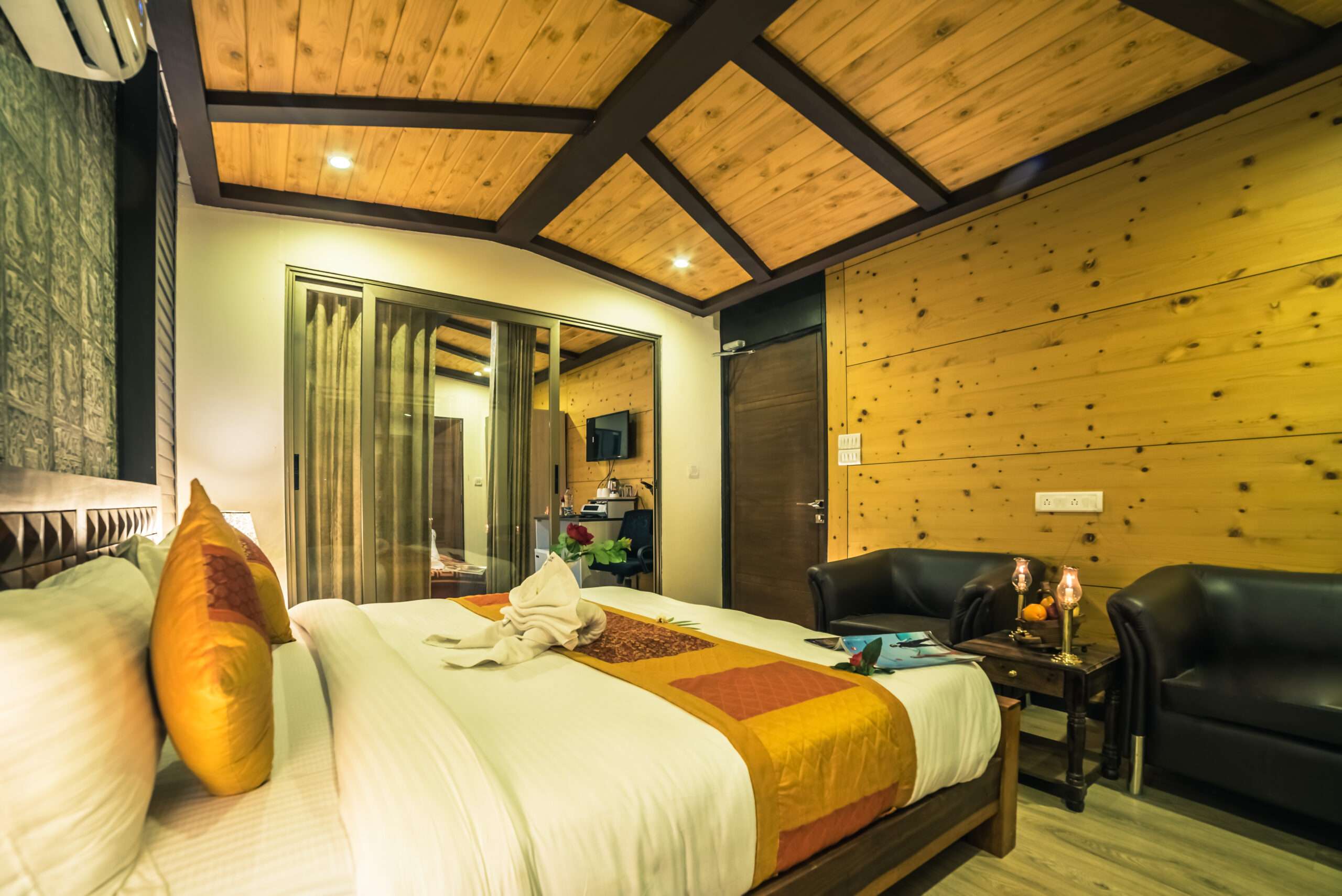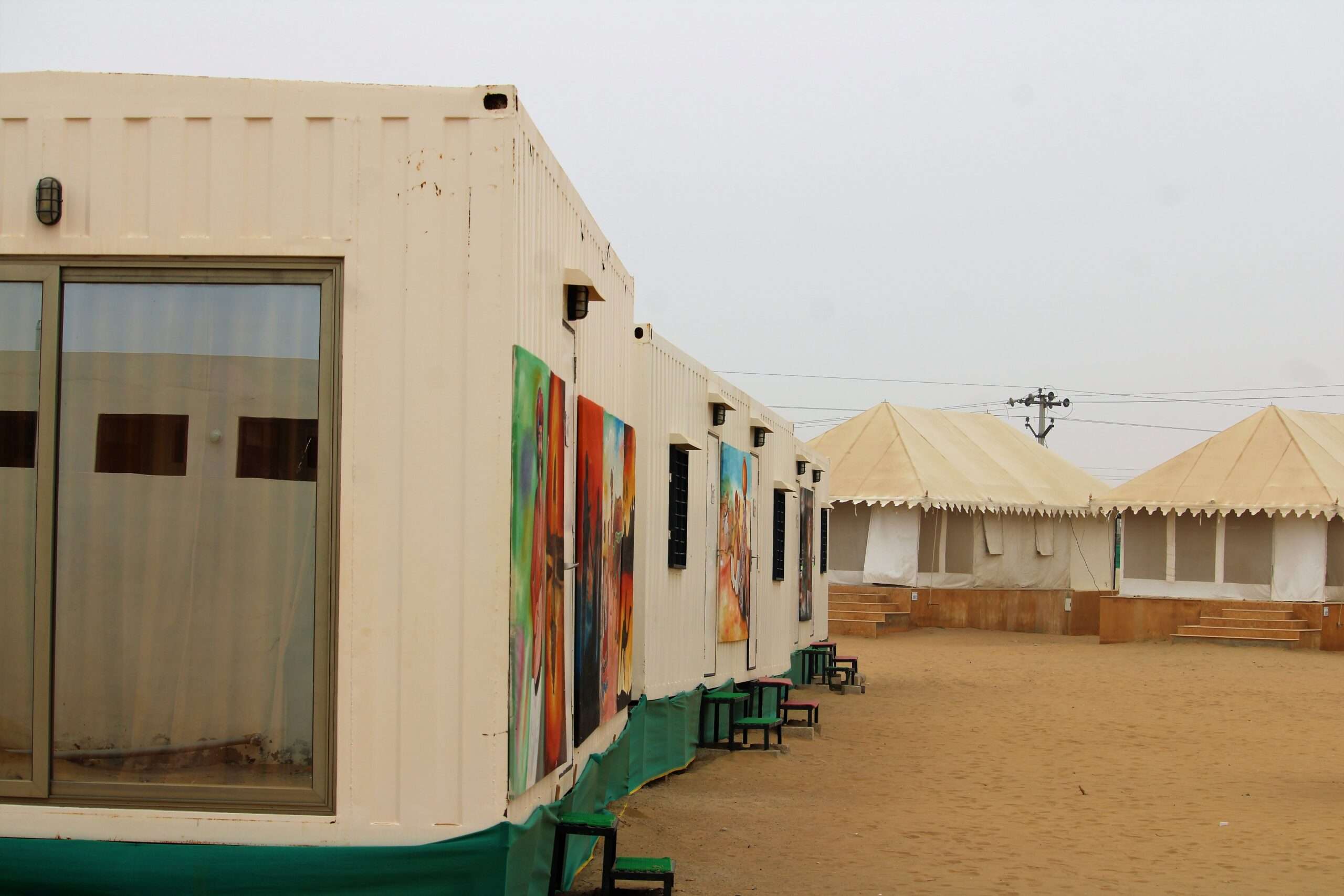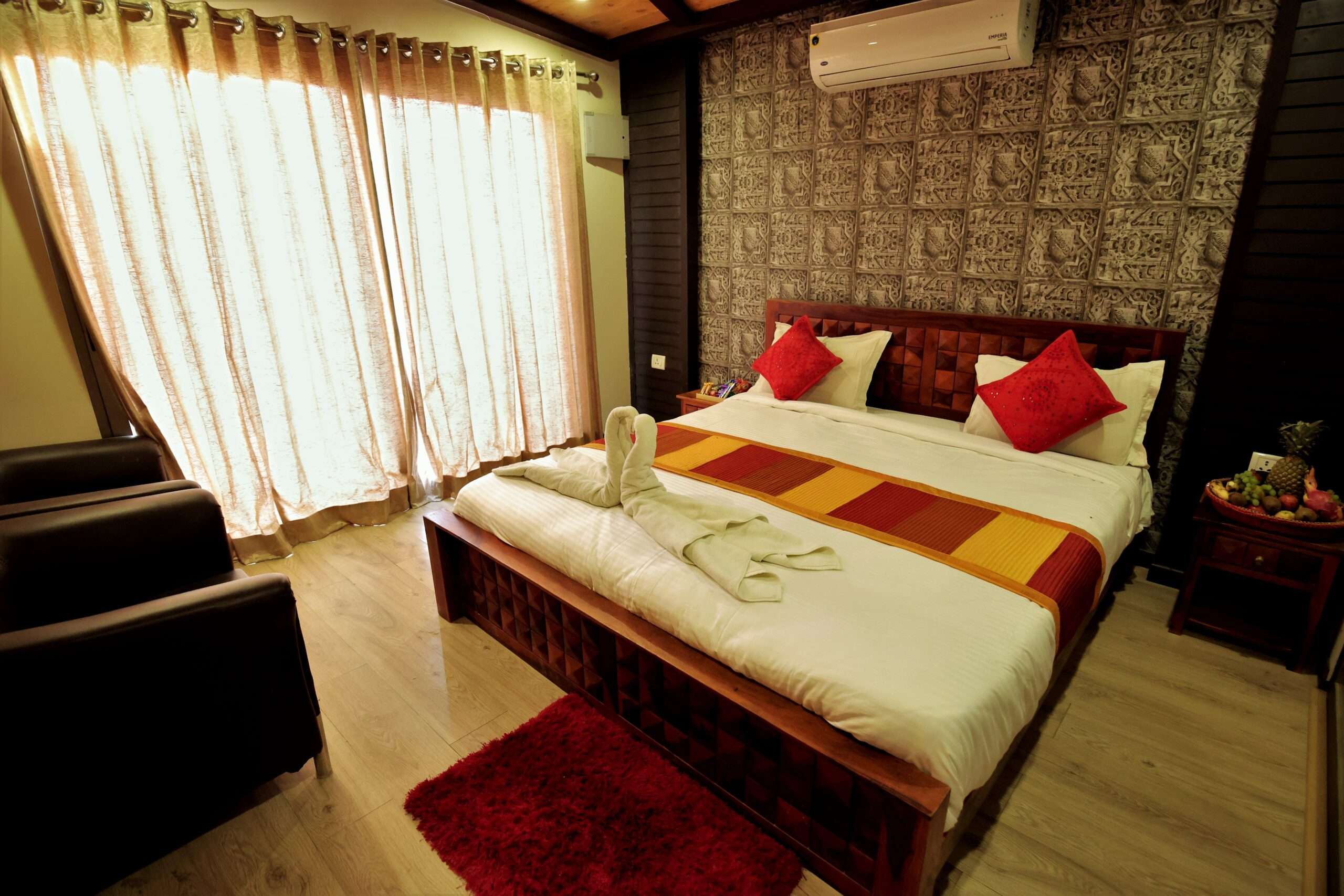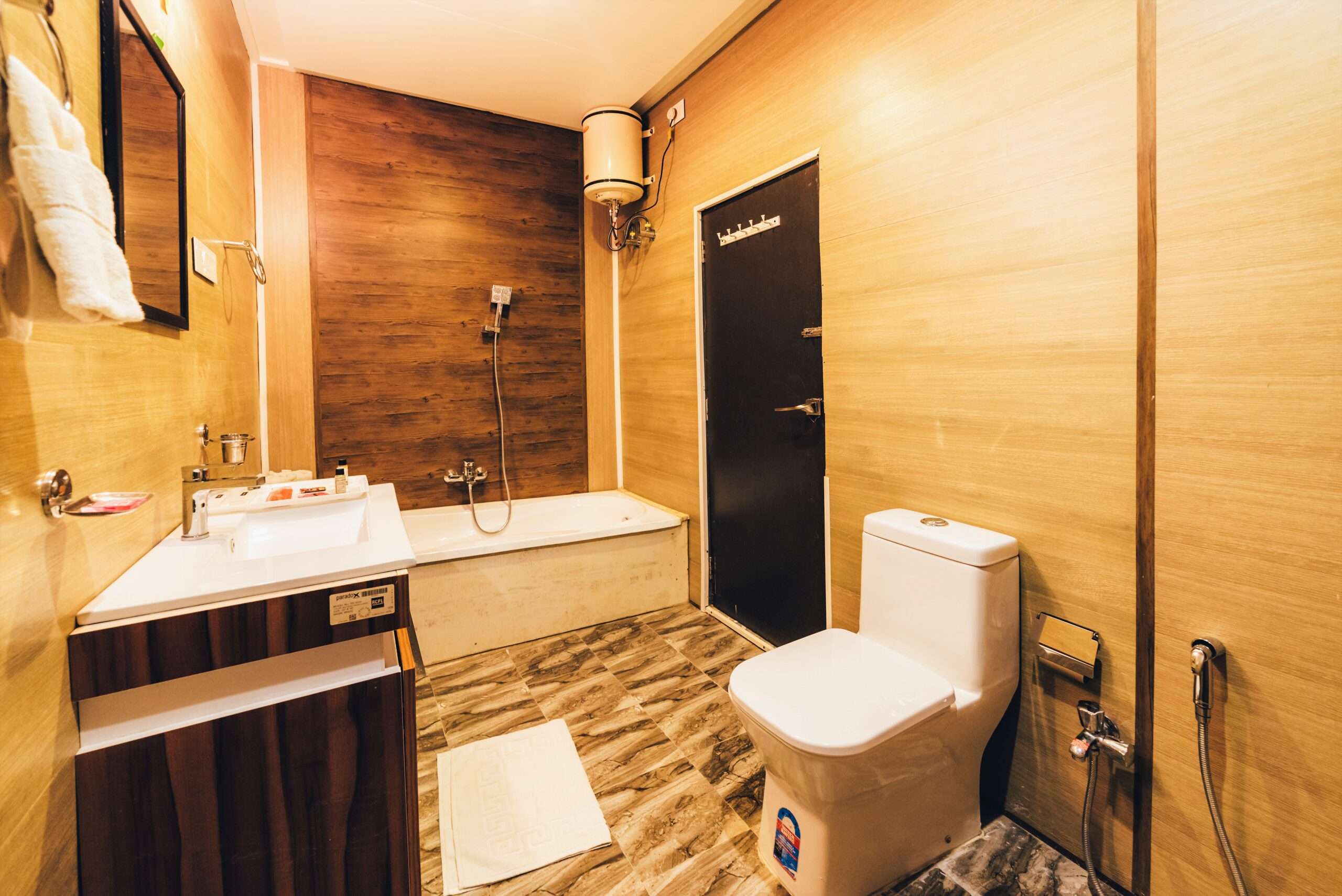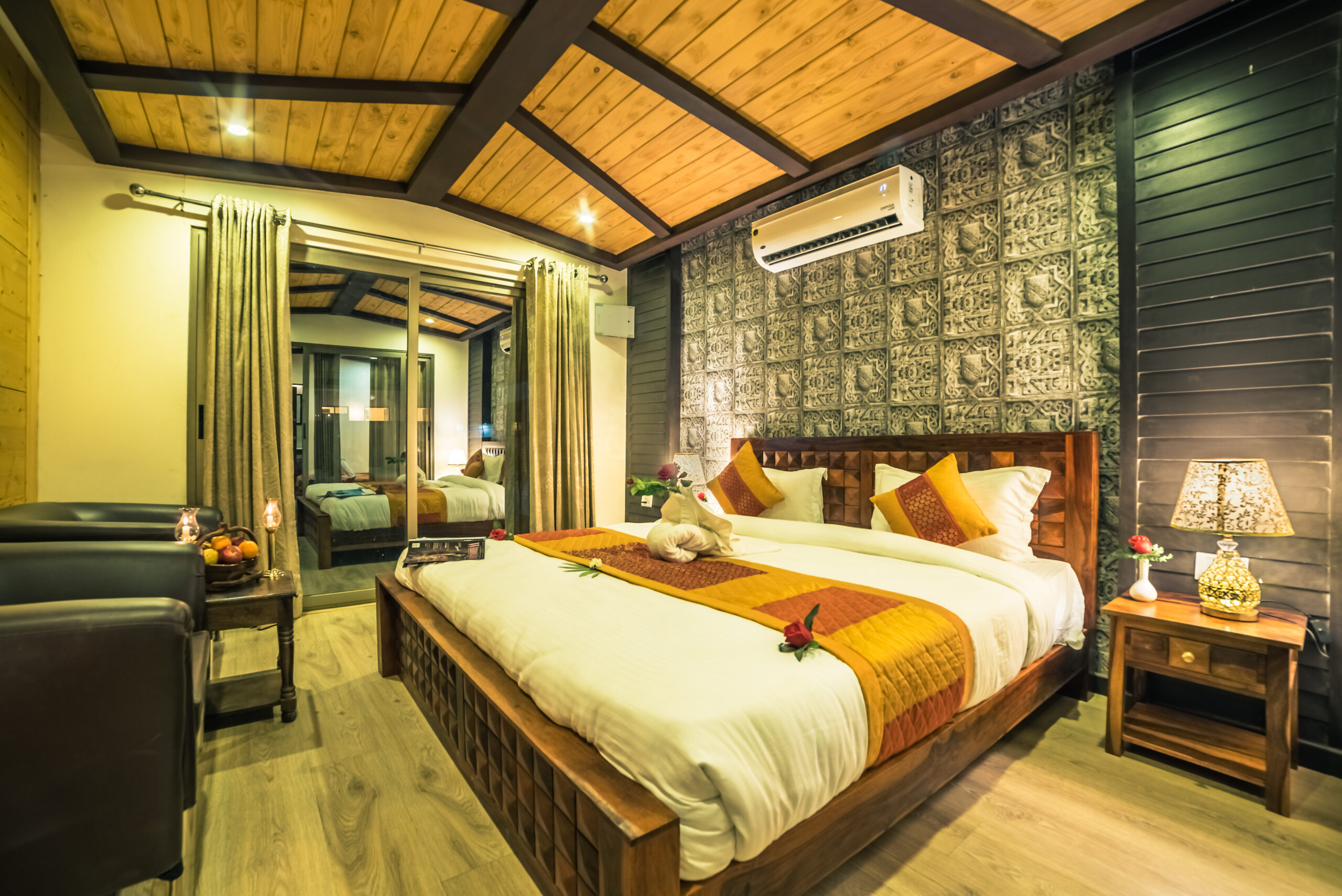 Family Luxury Bunker Suite
Our family luxury bunker suites deliver the chance for kids and parents to spend remarkable moments together with the mysticism of getting back to relaxation whilst enjoying all the modern comforts in the heart of the desert of Jaisalmer.
Secure container with the space of two luxurious king-sized bedrooms, and a modern bathroom with a bathtub.
All the family can completely unwind during their stay, this step back in time will be unforgettable!
The Jaisalmeri suite tents are a mixture of some of the richest living experiences and an authentic ambiance are cleverly wedded together and a spacious sitting area and luxurious handmade objects for decoration, with a custom-made king-sized bed, offer a relaxing experience in total comfort.
Together with exemplary facilities and delightful surroundings, the jaisalmeri suite tents offer an exclusive experience and a place of restful solace which espouse together perfectly at the authentic desert of Thar in jaisalmer.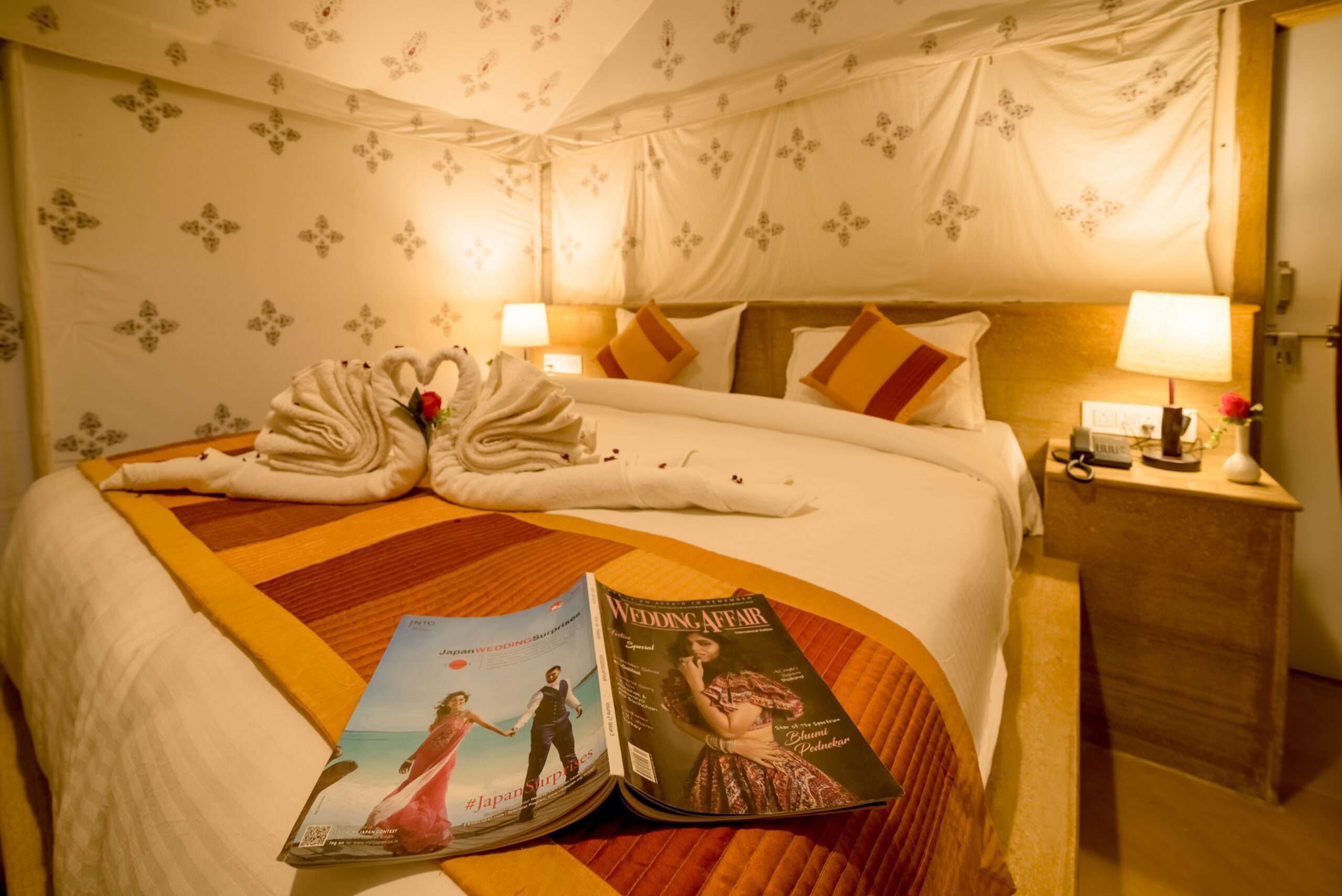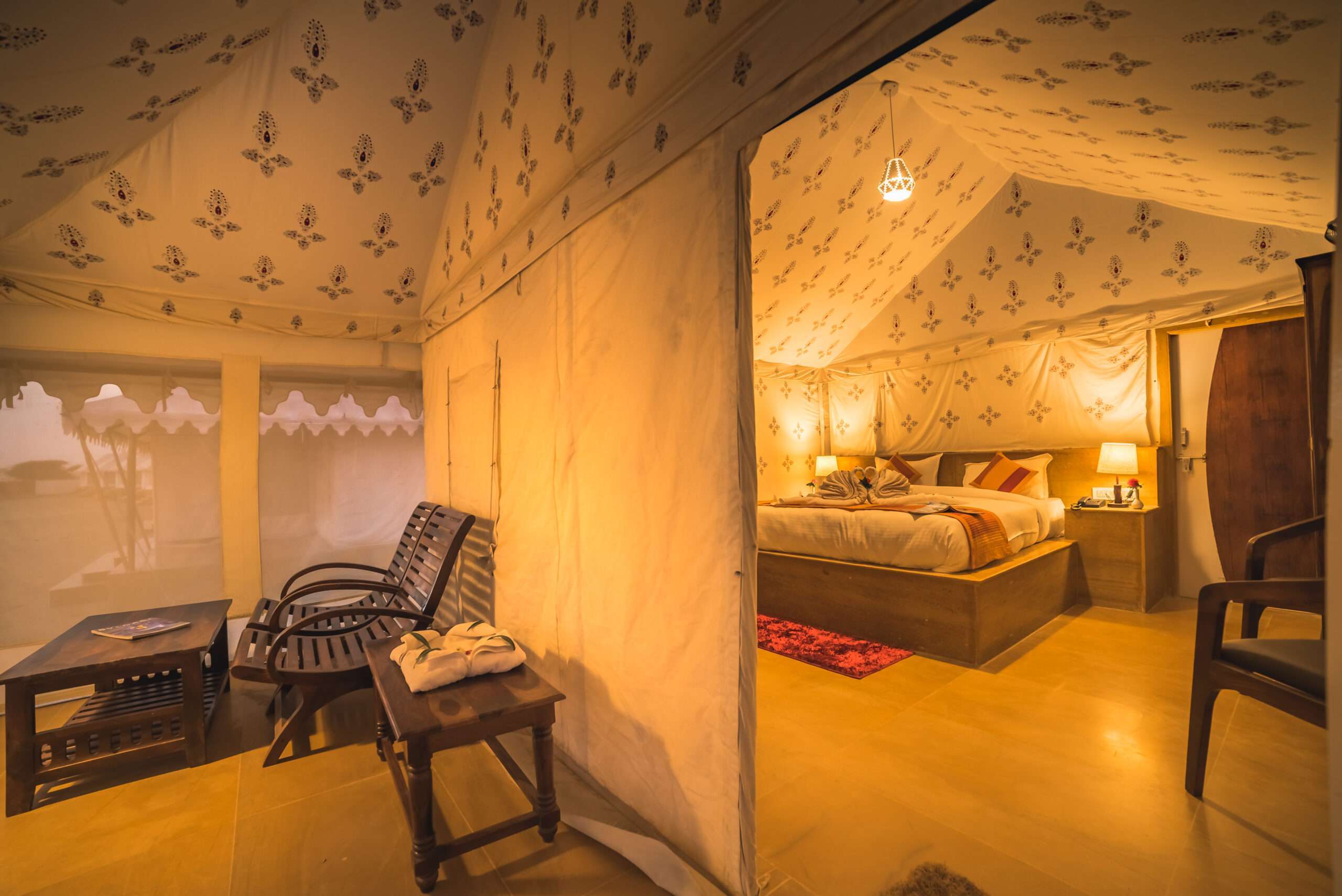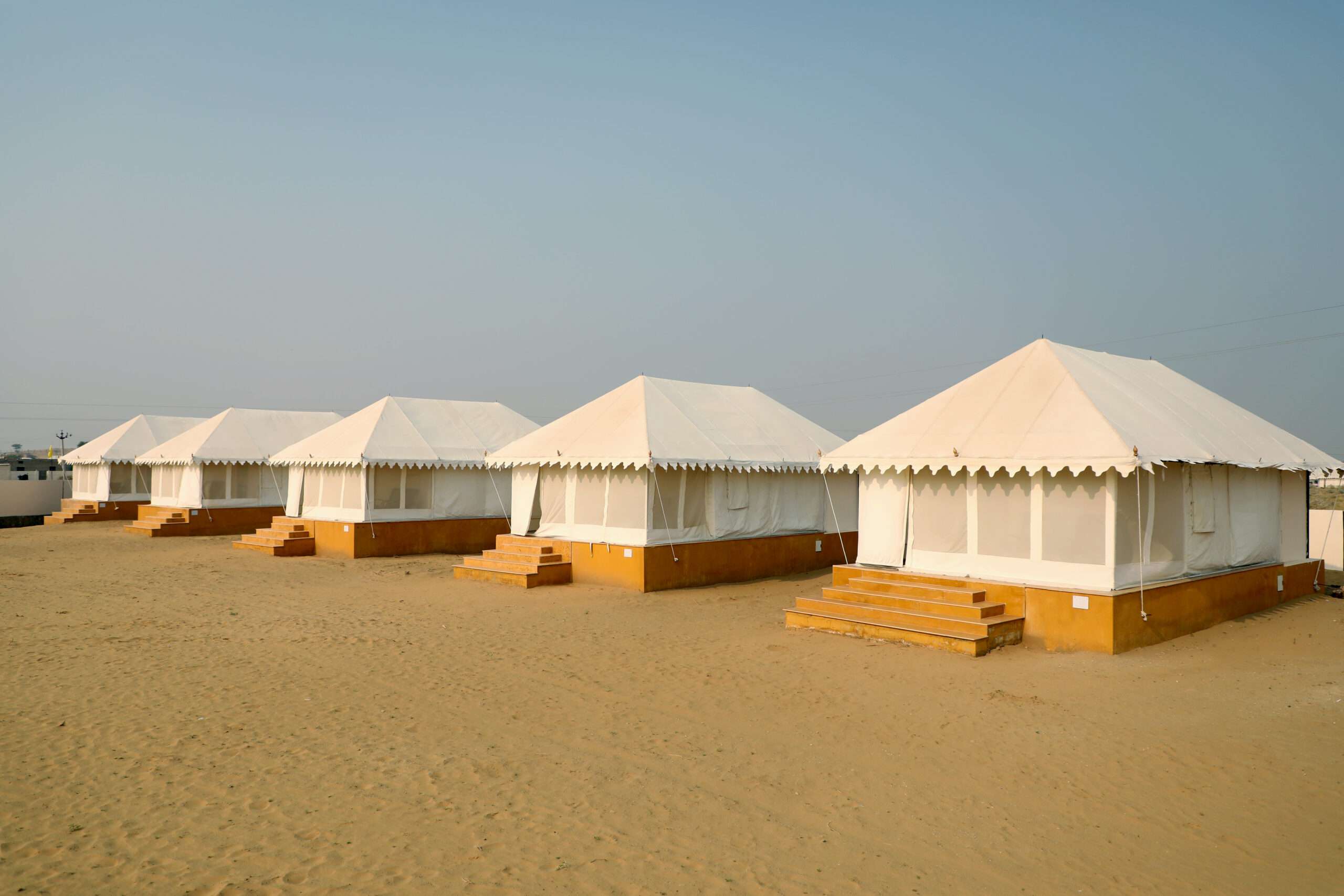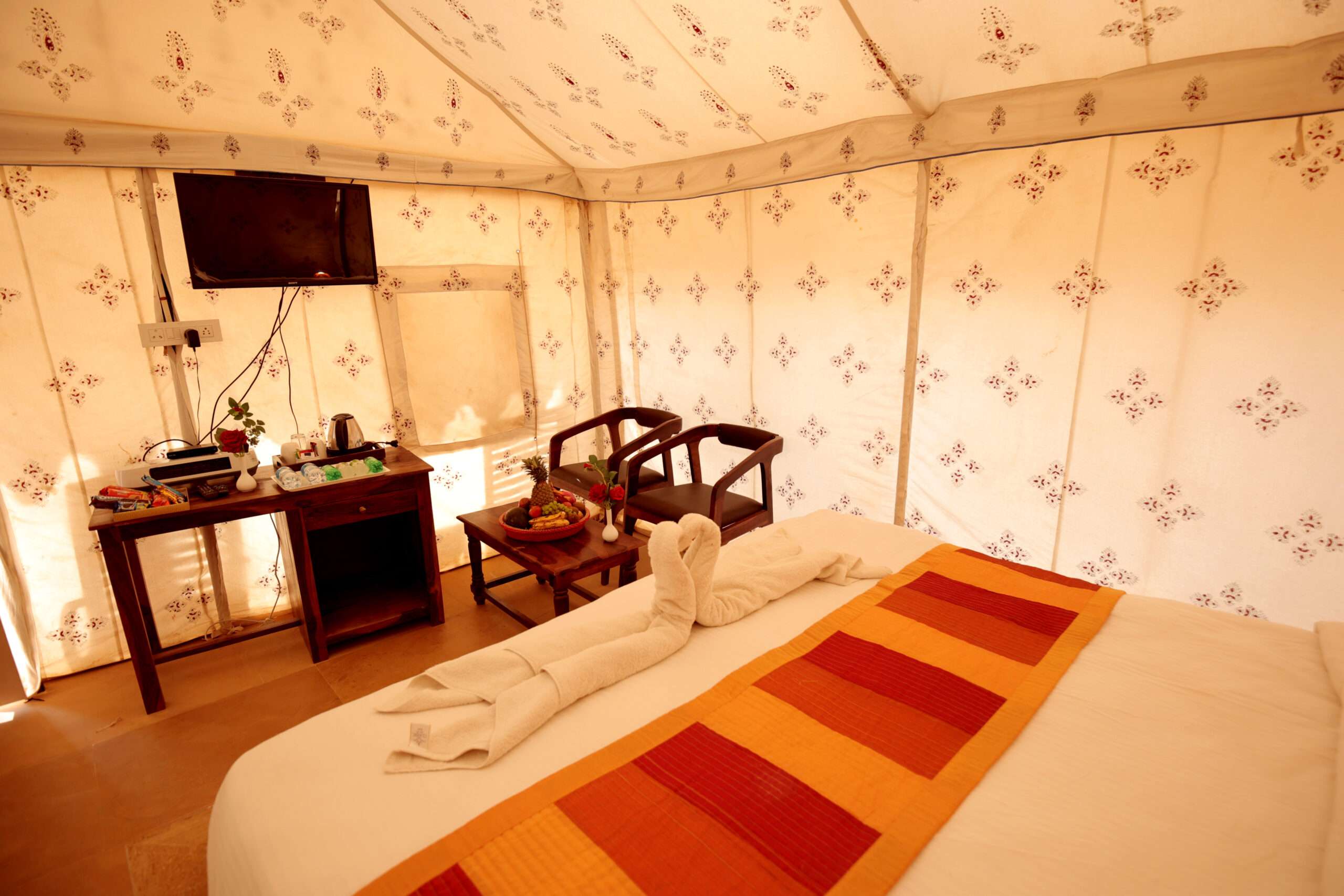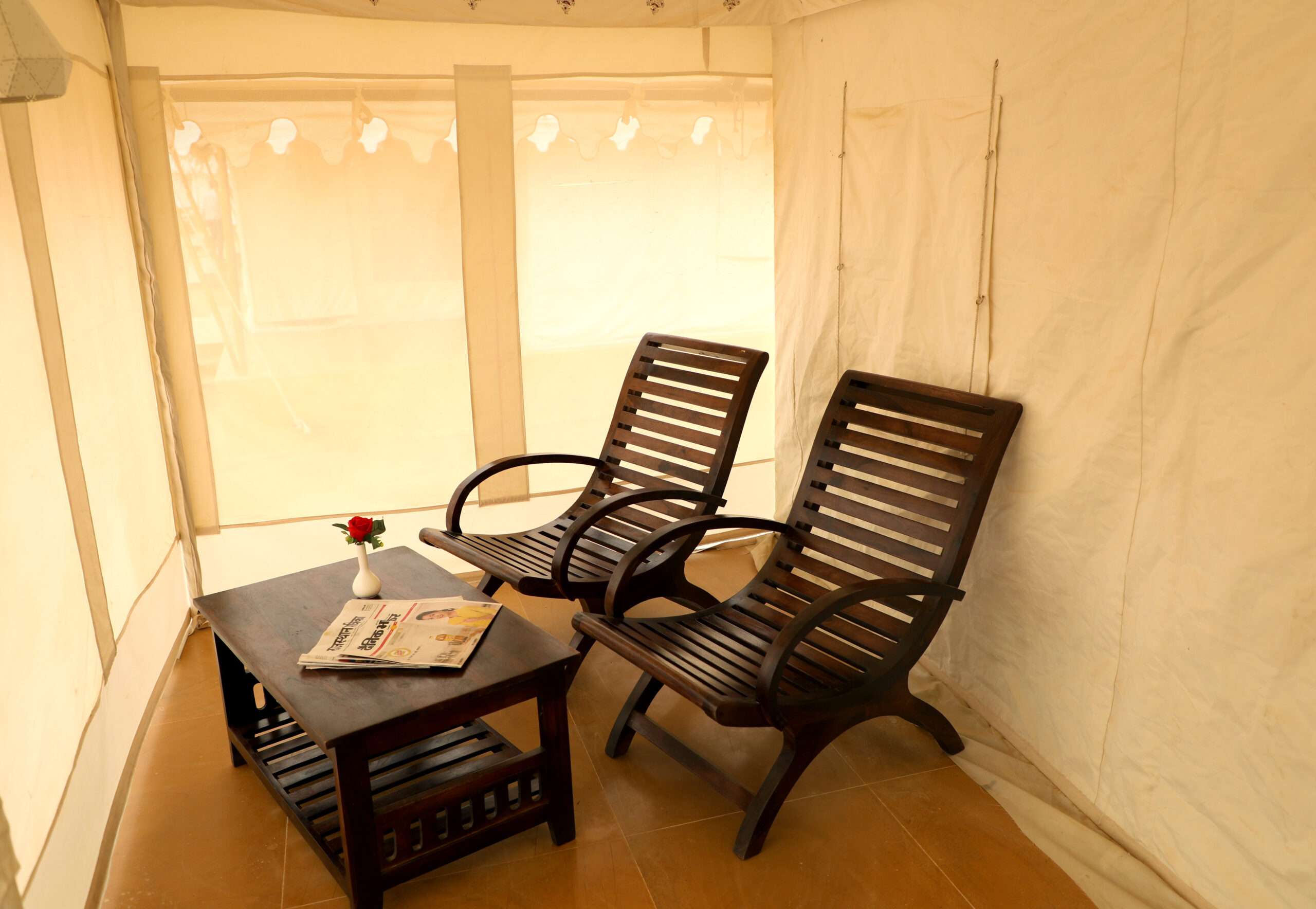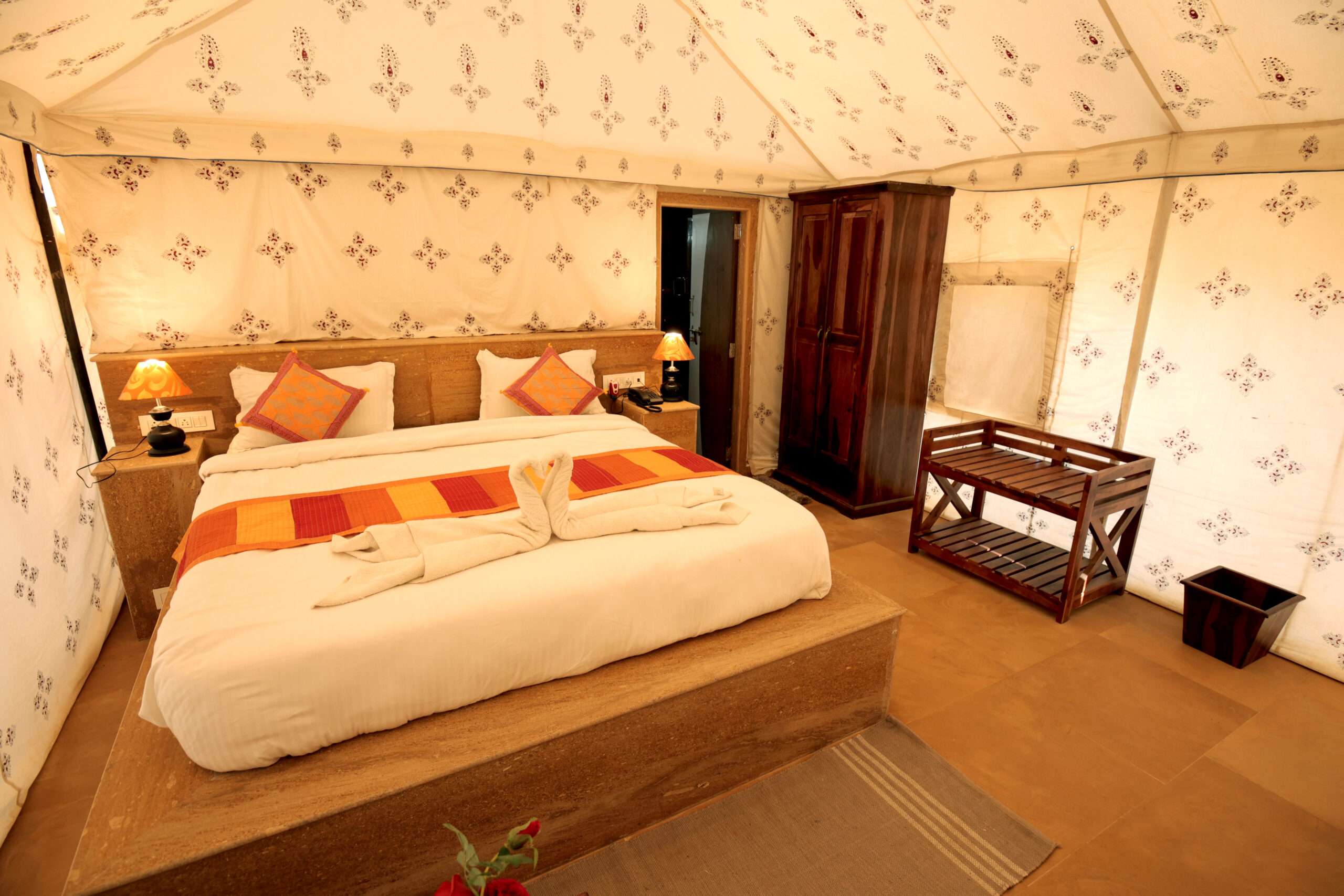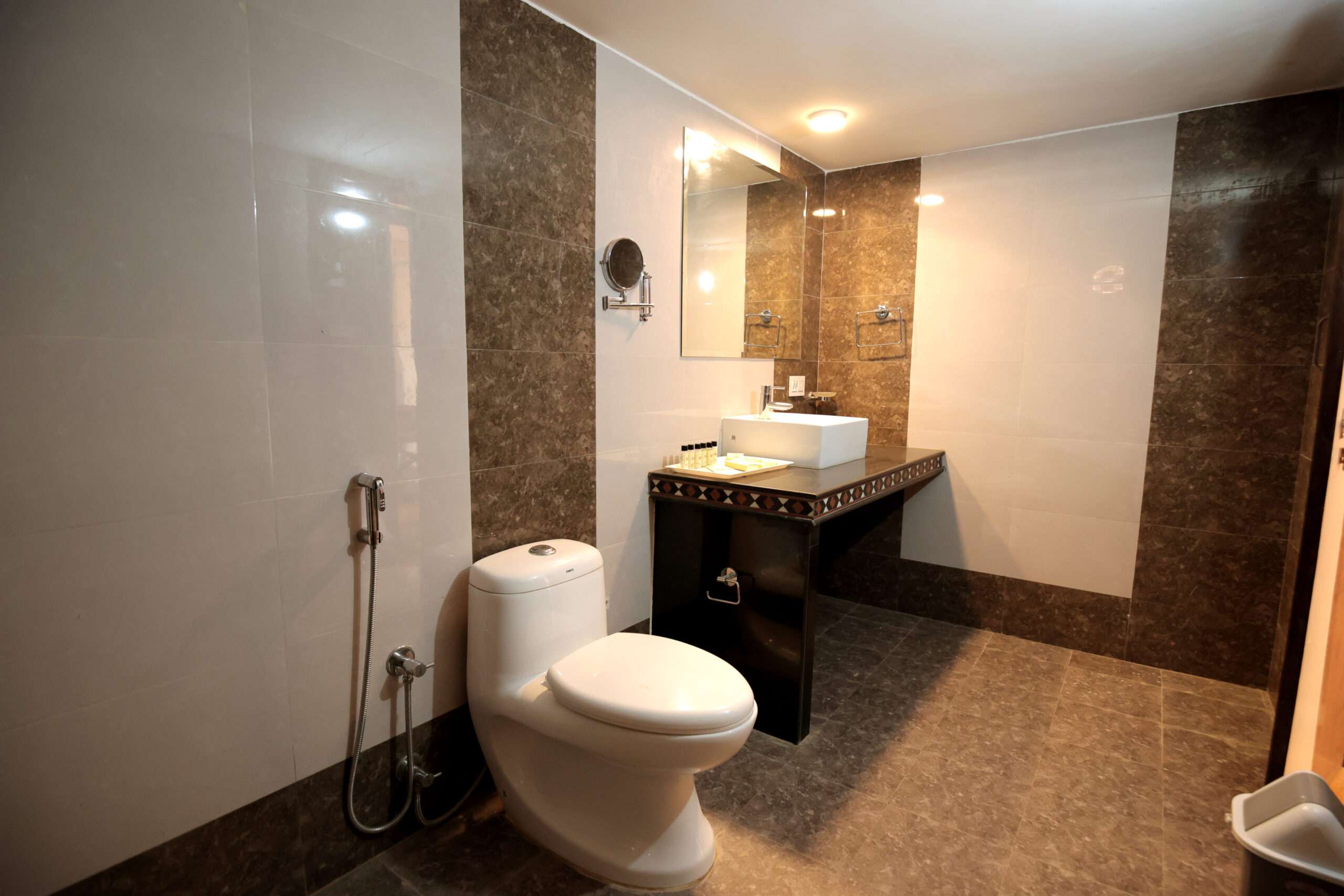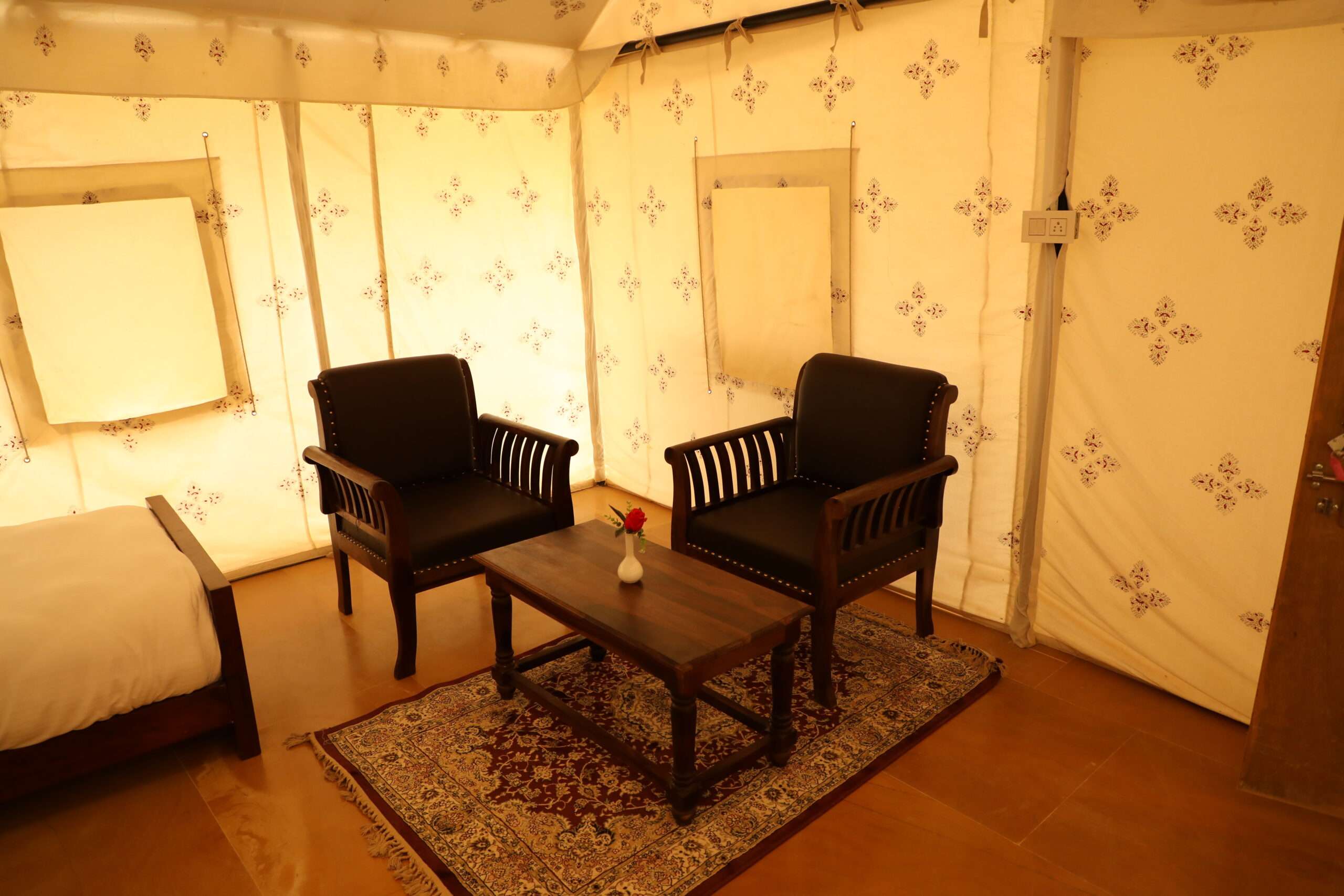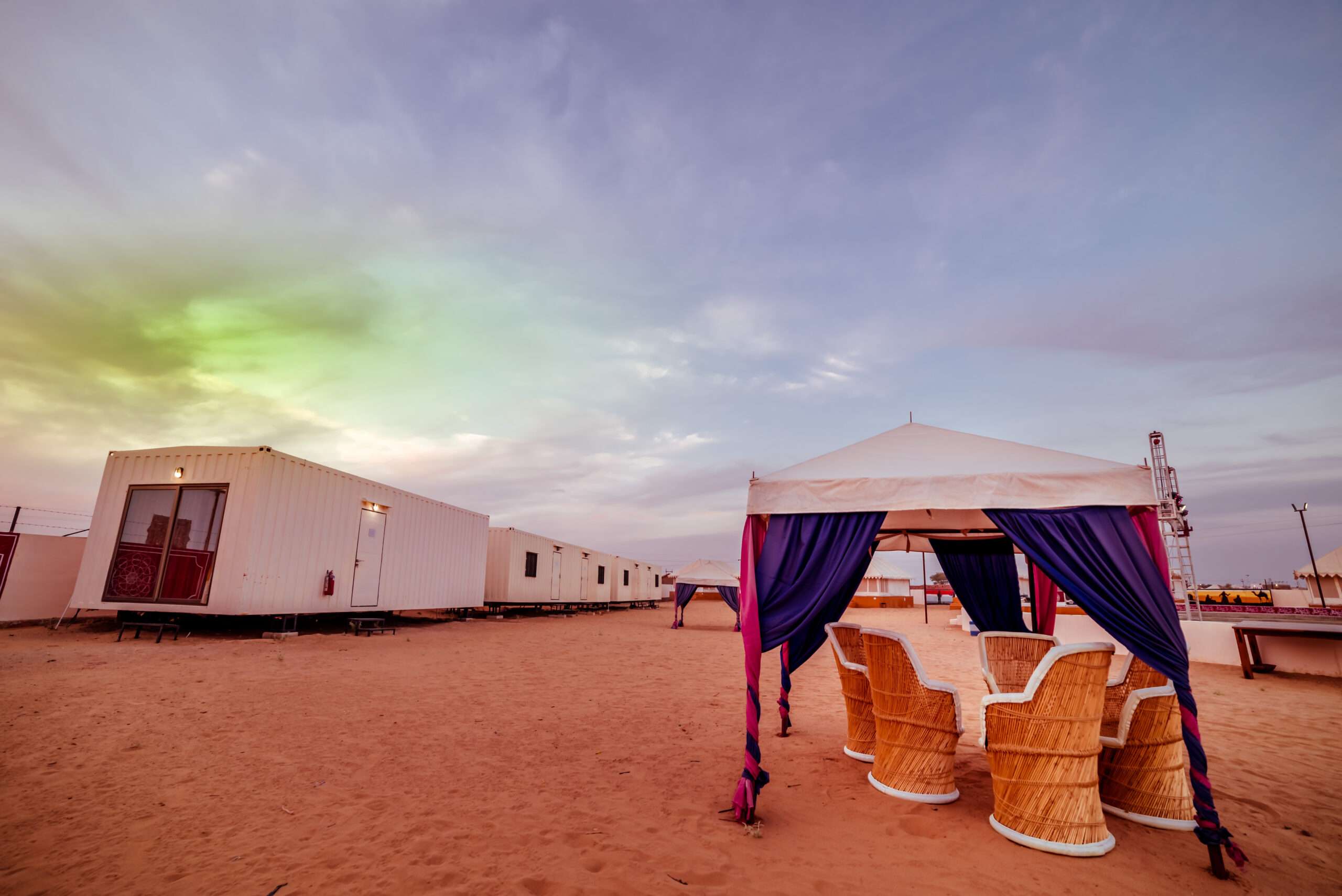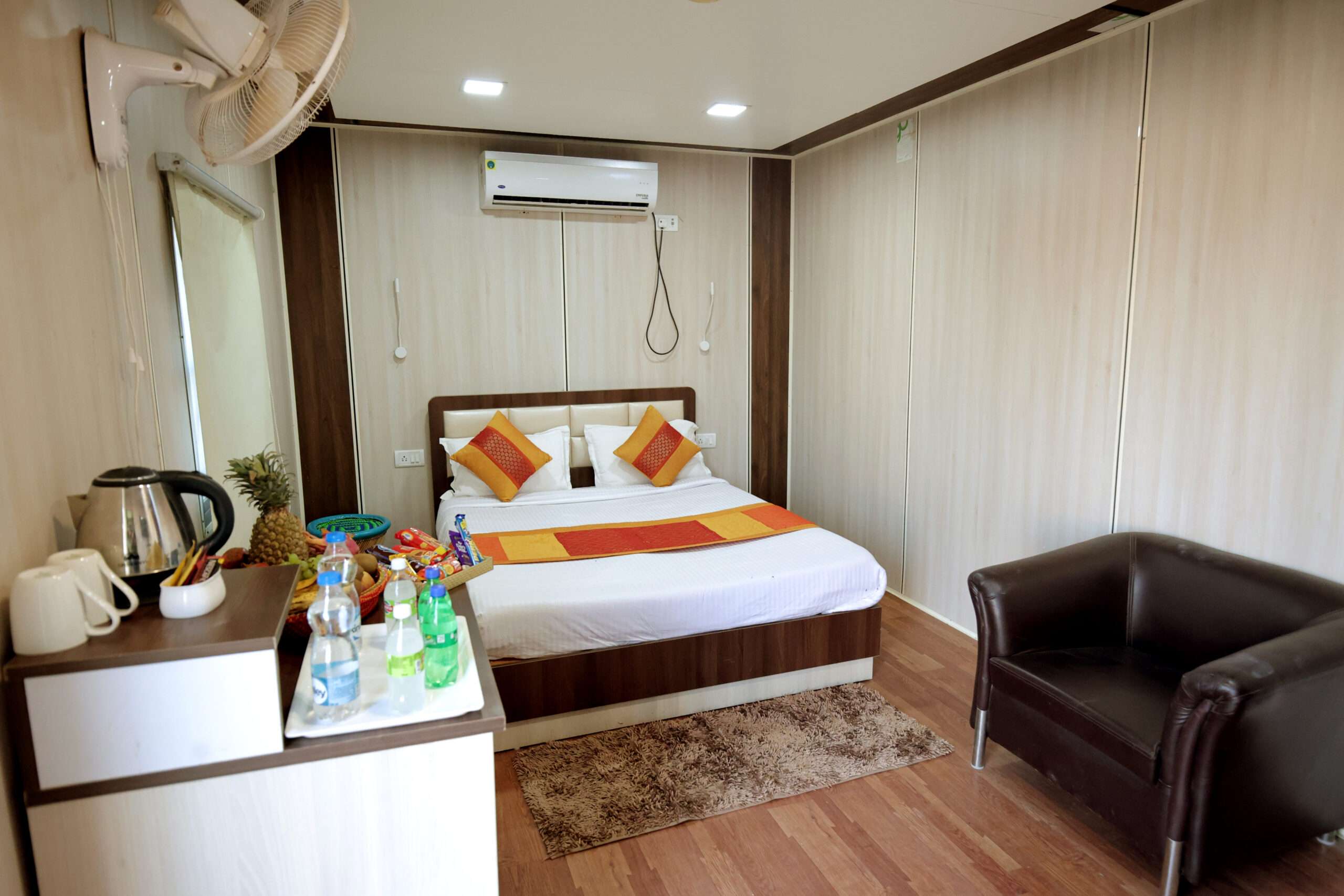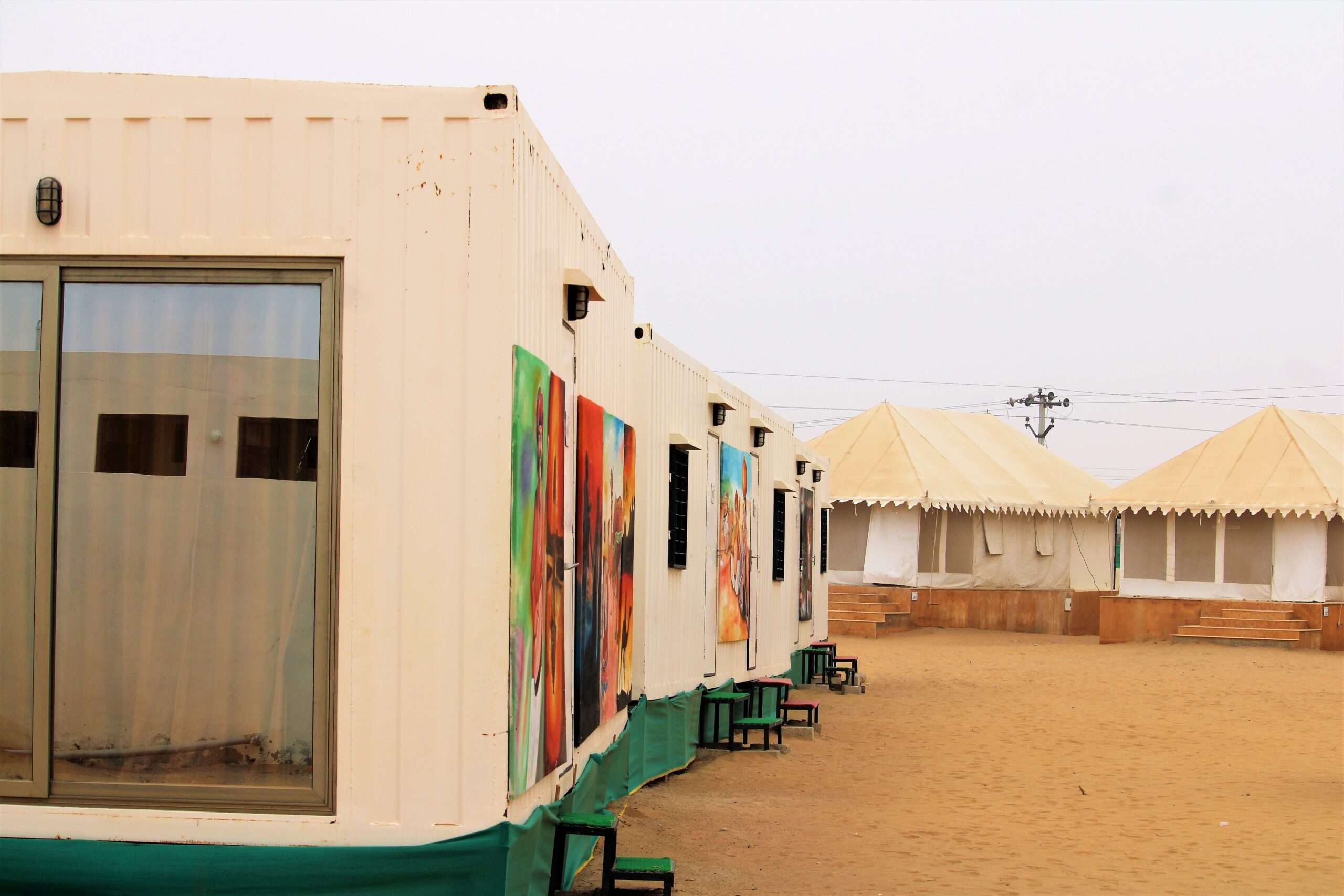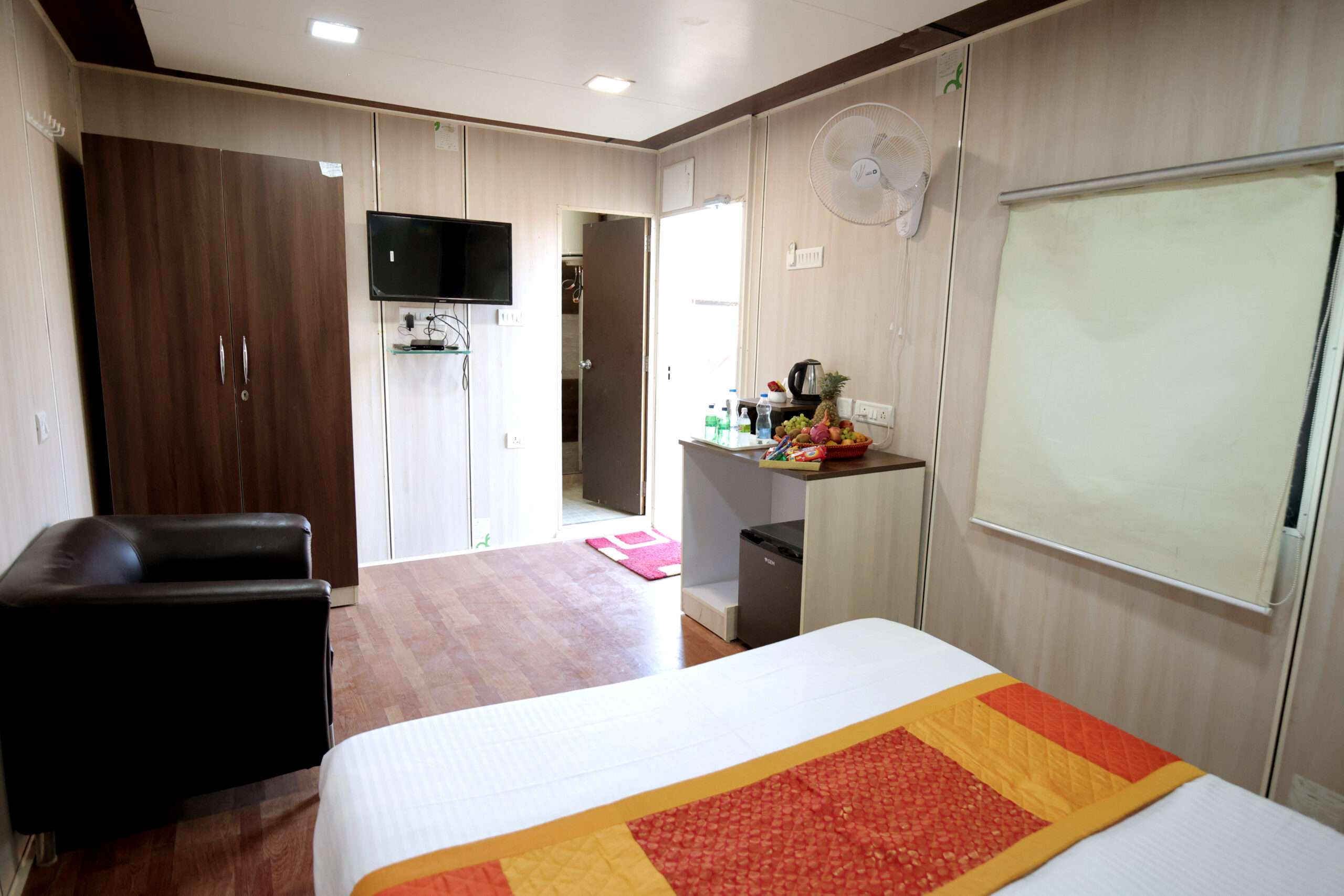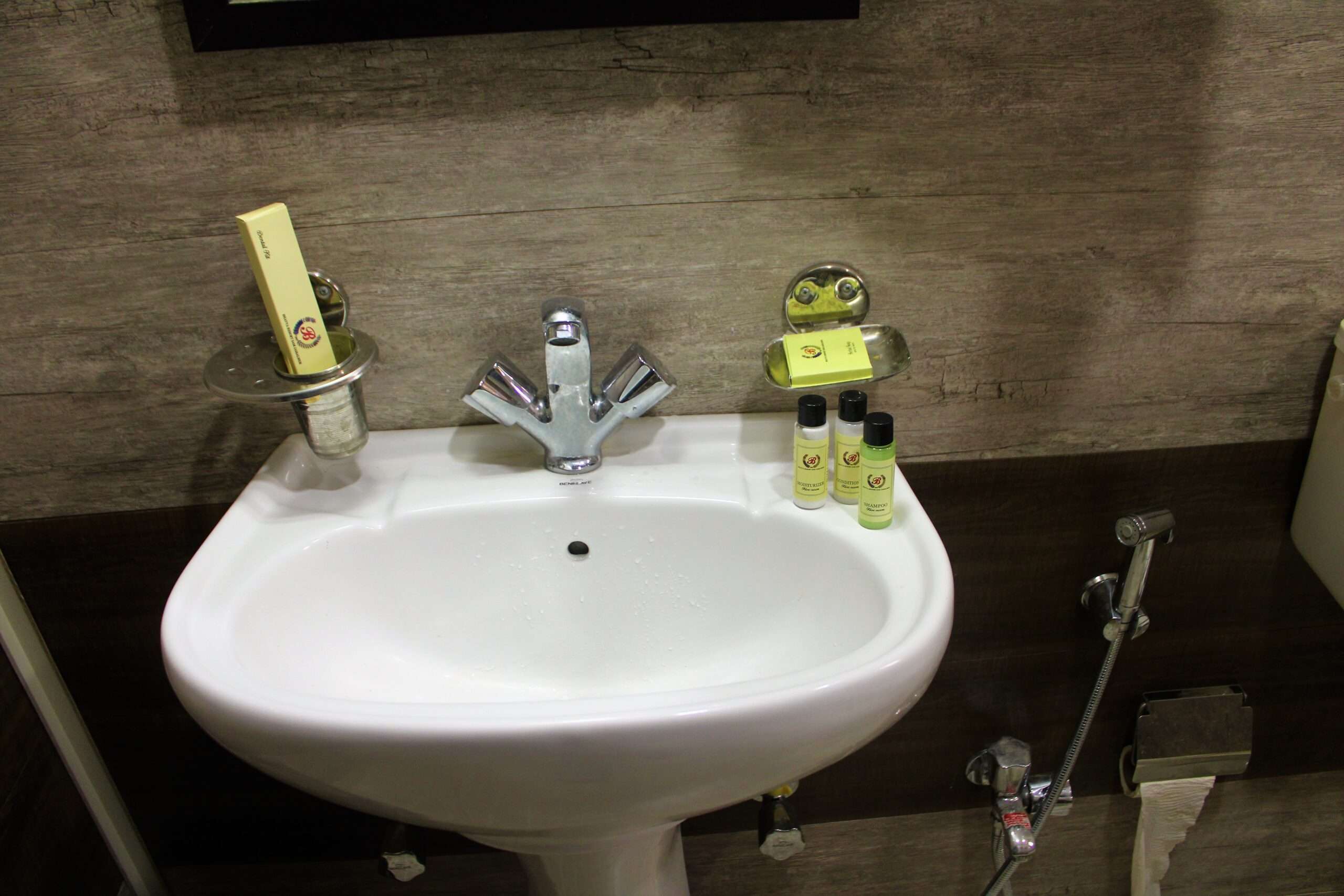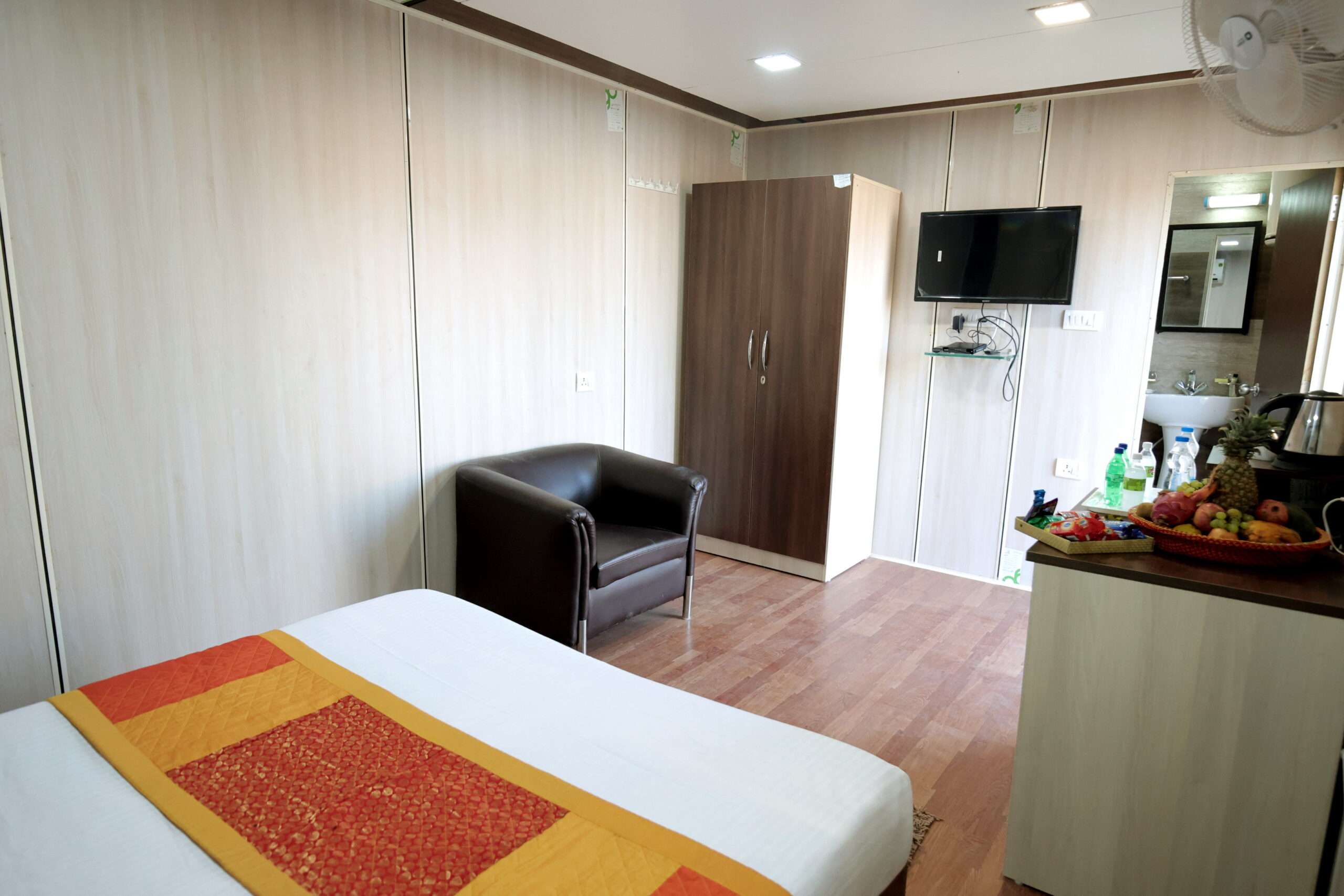 Forget slipping into cargo pants on your next vacation, now you can check into bhavya resort has a unique category designed by cargo containers known as deluxe AC bunker.
The distinctive concept has a contemporary charm. Without making any compromises when it comes to design and comfort. The Interior consist of a fully furnished queen-sized bedroom and bathroom fittings with all basic amenities provided to make you feel HOME.
If you are up for a vacation, better do it the eco-friendly way with our deluxe bunker.
Plan an Indelible Experience in Jaisalmer Today!
We can help you fit your stay and experience within your allotted budget.